Photographer | Debby Gram
Art Director and Stylist | Icarius De Menezes

All clothes GUCCI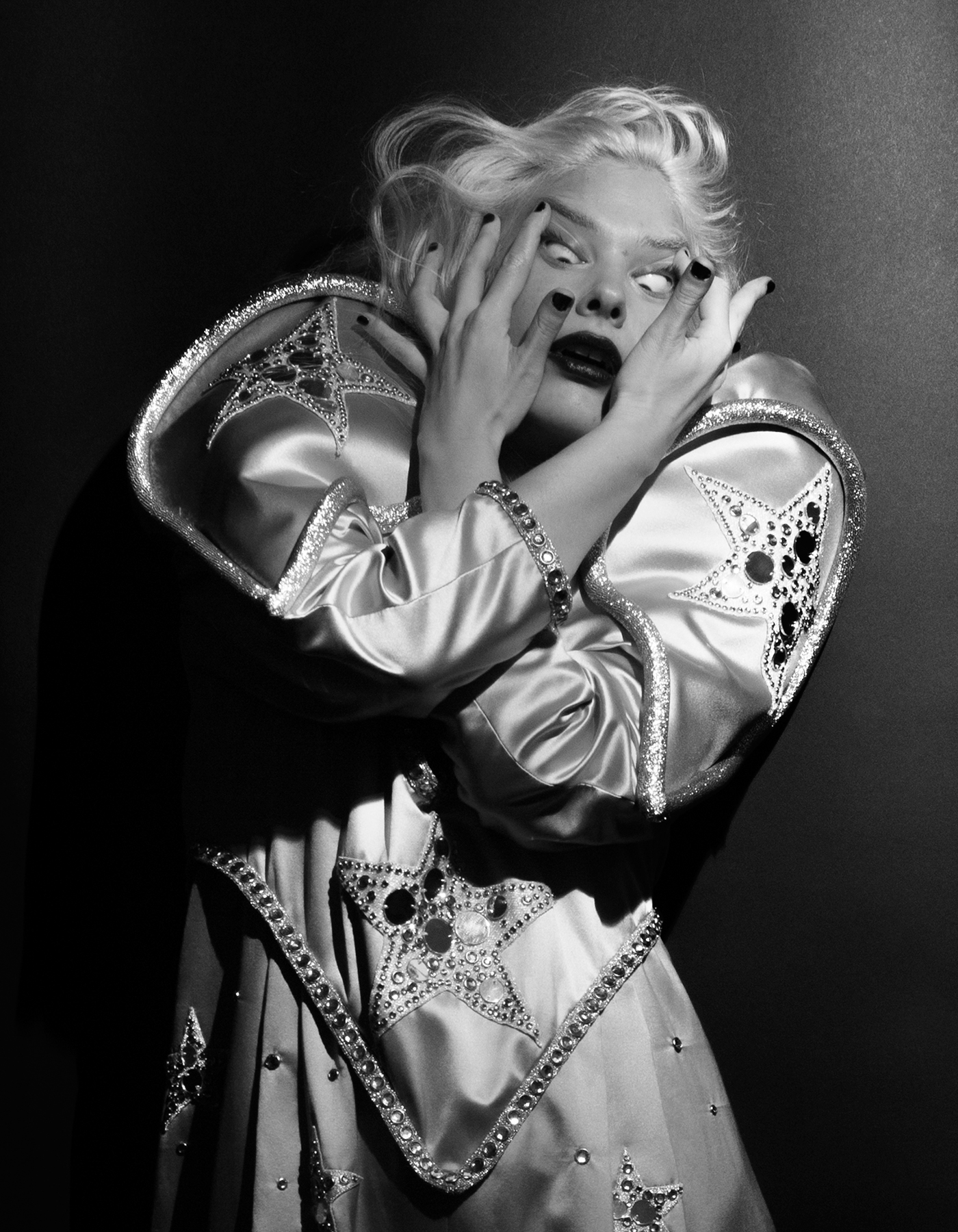 Sir Elton John waves farewell walking down the yellow brick road in Gucci
Celebrating his gold jubilee of glamorous style with rainbow spectacles, silk bowties, pink rhinestones, plumage, stars and endless glitter, after half a century John parts from the stages with the gift of a final 300-date tour, dressed in a career retrospective in form of costume creations of resplendent spirit by Alessandro Michele, Creative Director of Italian fashion house Gucci. Collaborating also in the production of a wearable aesthetic of the whimsical song composed by John and written by Bernie Taupin in 1971, Levon, "and this one is for you". As the knighted pop hero tells everybody this is his last song on stage.

50 Years, "I'm Still Standing"
The flamboyant supernova with a transcendent career of five decades with over 100 gigs annually, 28 gold and 31 platinum or multi-platinum albums, 300 hundred million records sold is known for his distinguishable looks with illustrious androgynous stage outfits coated in colour, shimmer, feathers along with perpetual creativity and boldness. This luminary has passionately entertained and charmed around the globe. Beyond a generation's sound, John is an astounding multi—sensory extravaganza whose remarkable impact and light will never fade.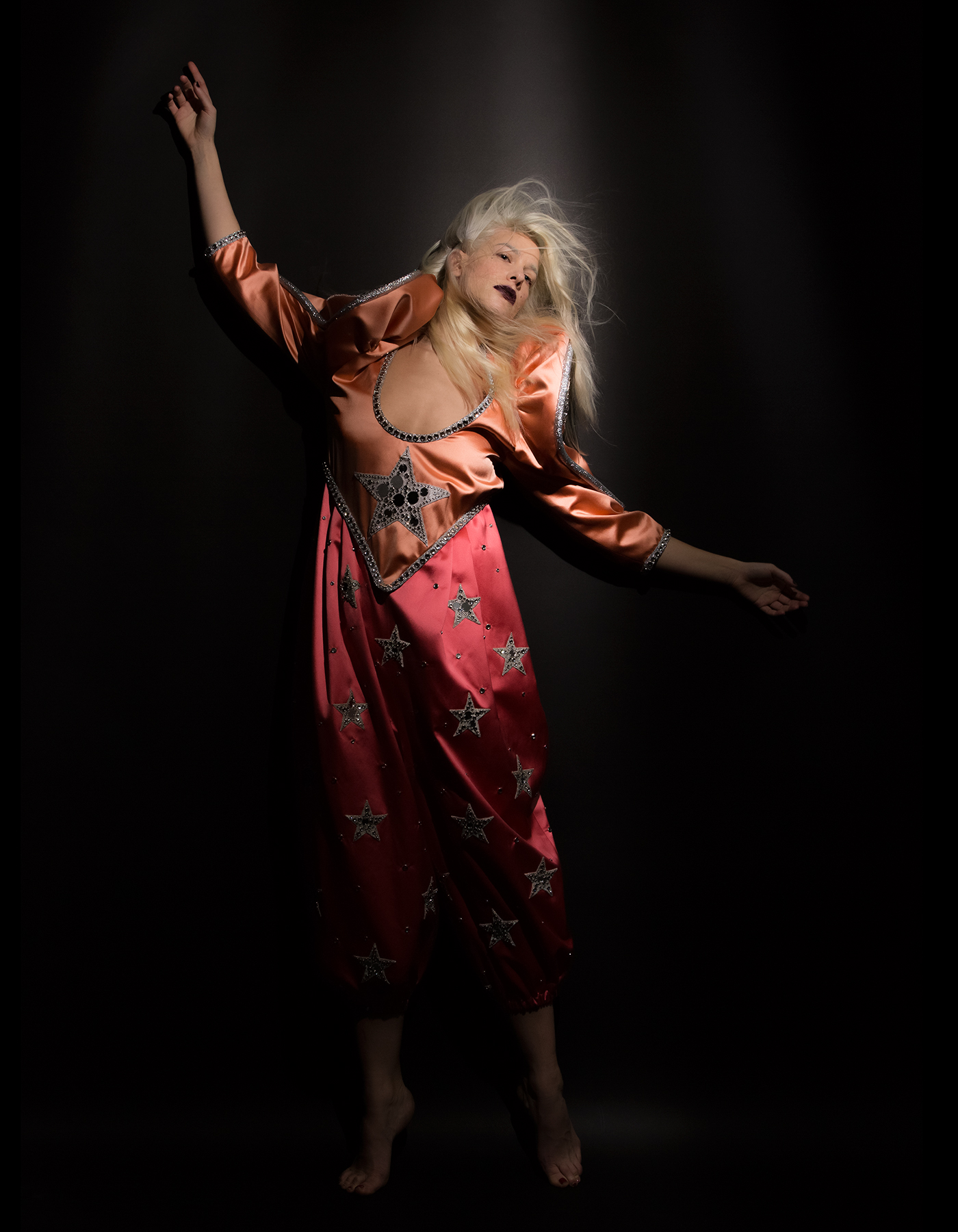 Archives of a Pop Icon/Circle of Style
The phenomenon's five decade career of sartorial craze, especially outshining in the 70s, an age loved by the pop rock legend, an age of "creative explosion", is of noteworthy visual and conceptual power to say the very least. From "Your Song" catapulting the songwriting duo to fame, the Lion King musical and movie, and serenading Princess Diana goodbye with "Candle in the Wind" John has left a musical mark on time. John separates himself from the leading sex-symbol artists of his epoch, as his fun was in his theatrical dress. Interested solely in the artistic side of life.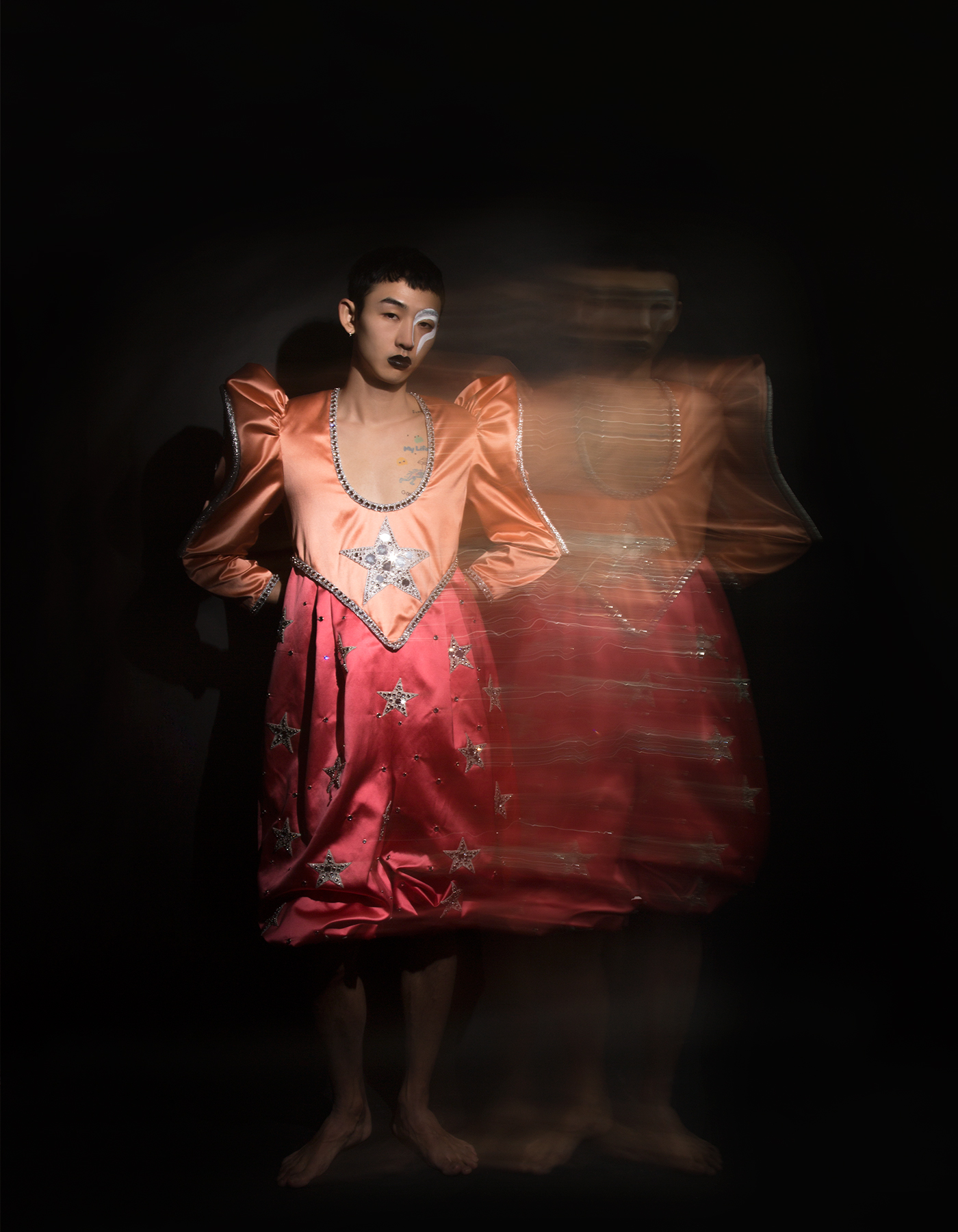 Farewell Yellow Brick Road
A chance to see his red sequinned shoes walk down the yellow brick road one last time. The 3 year "Farewell Yellow Brick Road" world tour will commence in September as John announces it to be "the most produced, fantastic show I've ever done". Leaving the stage and rigorous travel schedule that accompanied, without retiring from music in wholesome, or intention of slowing down creative output. Making more records, writing more musicals, holding more photography exhibitions, as priorities have changed, instead of taking to the stage the British superstar wishes to take to his sons and their caring.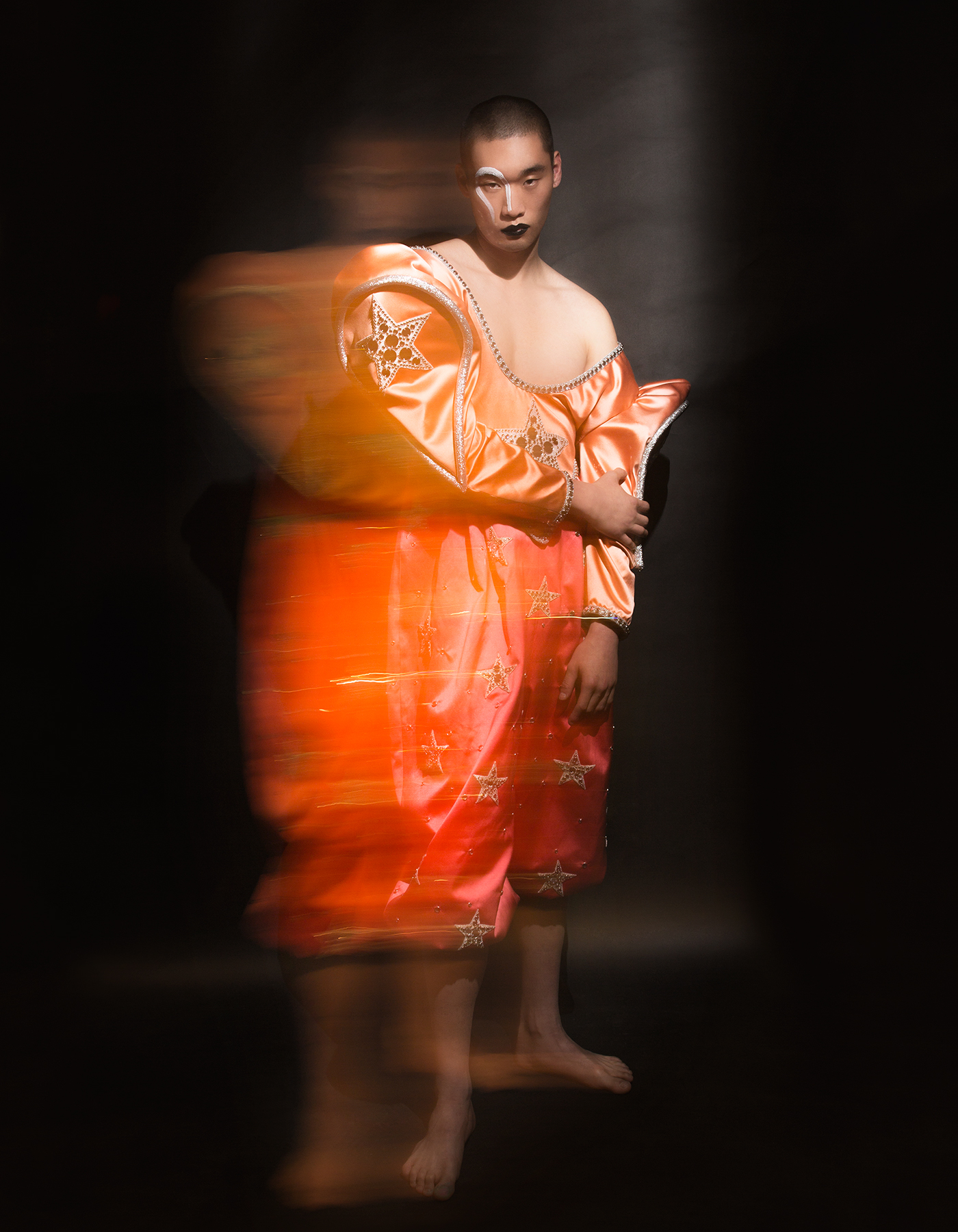 Knight in Gucci Armour
Dressing John's swan song, Gucci, the luxury brand founded in Florence presents Alessandro Michele's celebration of the musical triumph that is friend, Elton John's tradition. For this curtain call, Michele delivers exhilarating, seventies-influenced, rainbow, embellished garments, reinterpretations, breathing in inspiration from the songwriter's emblematic fashion history. Incomparable visual expression, of joy, personality, roots, character and tremendous boldness.
Combining Gucci's notorious Italian grace, Elton John's burst of life, expressiveness and colour, and their shared daring charisma this collection shows off the long-lasting relationship between brand and author of anthem "Don't Go Breaking My Heart".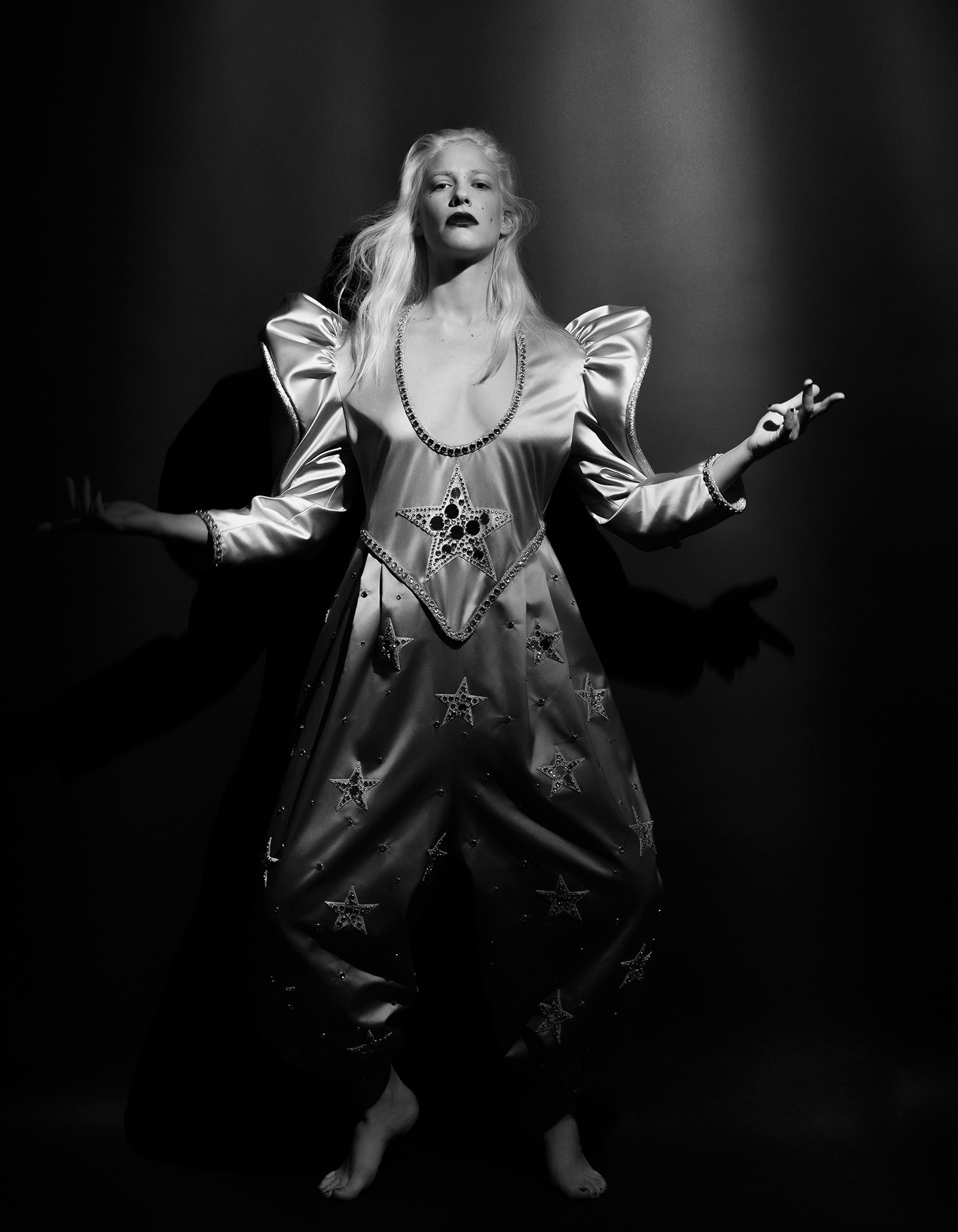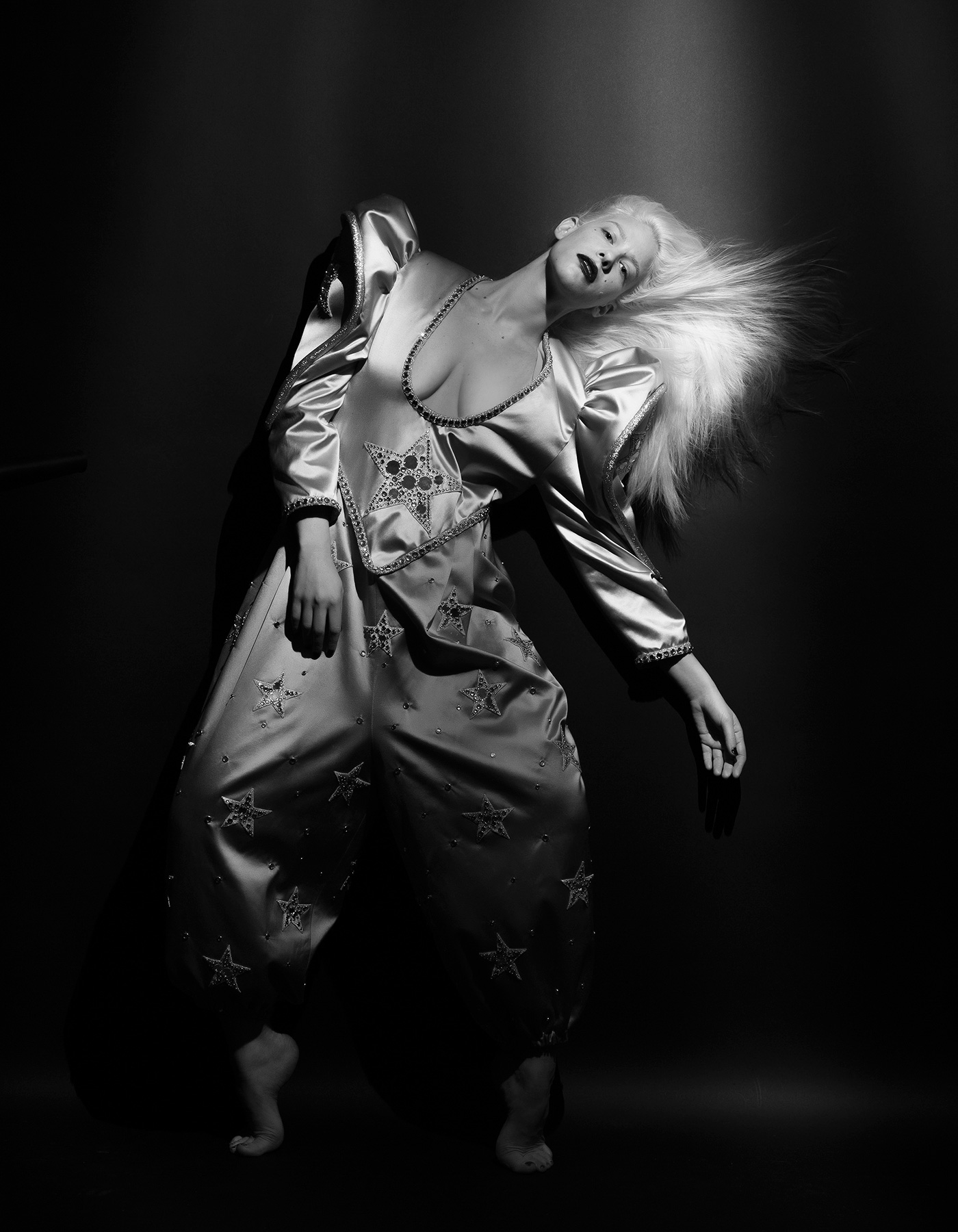 Spangled Jumpsuit
A bare-chested, silk, spangled jumpsuit, taking heavy influence from the Rocket Man's iconic fantasia 1986 black velvet tail suit with flashback metallic piping and reflective stars. This look's bold fuchsia and peach tones in a smooth silk are a nod to the colours that the showman paired in contrast with the original velvet suit with his headdress and shades, and also to the colour spectrum that is the superstar's mesmerising archive of unique costumes. In conjunction with other flashy and vibrant creations, Michele leaves a strong homage to a generation's creative voice of bright suits, platform boots, brooches, large humorous spectacles, glitter and joy. This look of embroidered silk is an apotheosis of Elton John's lifetime of stardom, glitz and showbiz. As timeless as this philanthropist, artist, composer and mind that inspired the spangled jumpsuit that will reflect the glistening of the sun of pop.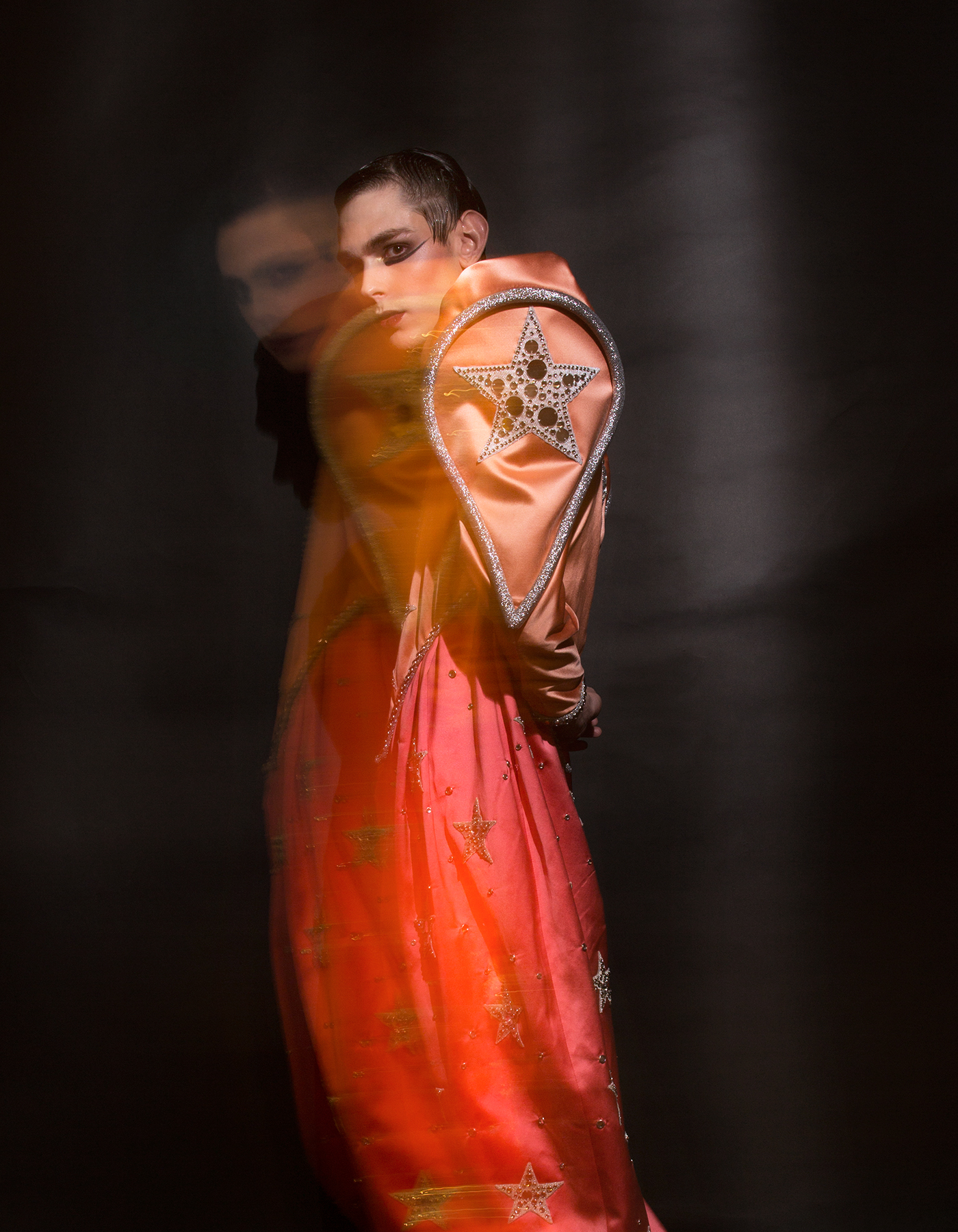 Levon Good bye by Gucci
"Levon wears his war wound like a crown"
In addition to tour styling, Gucci will also be immortalising John and Taupin's 1971 single, "Levon" with a capsule collection of tote bags, t-shirts and sweatshirts with the single's vinyl artwork.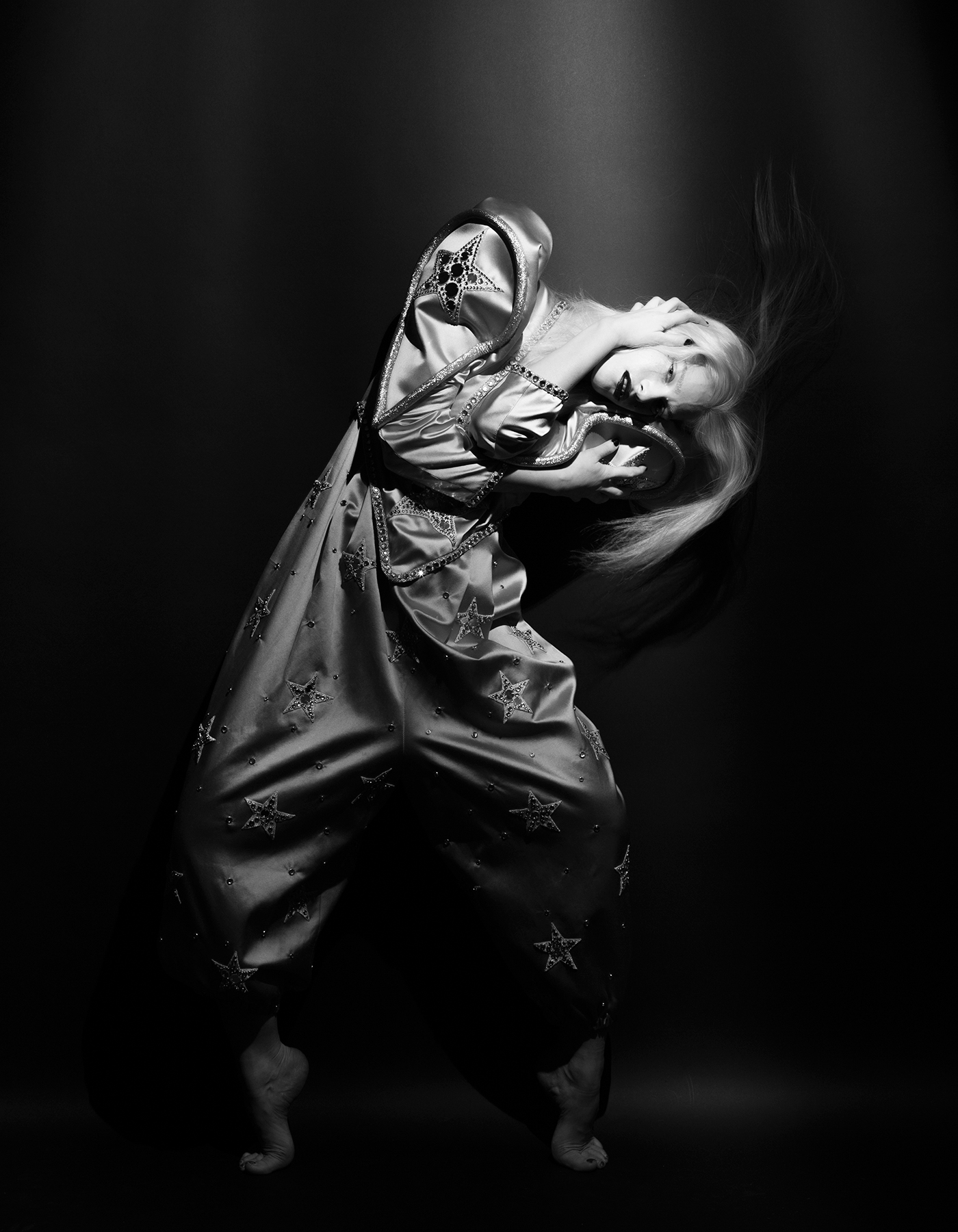 "It´s about a guy who just gets bored of doing the same thing. It's just somebody who gets bored with blowing up balloons and he just wants to get away from it but he can't because it's the family ritual". -Elton John in His Own Words by author Susan Black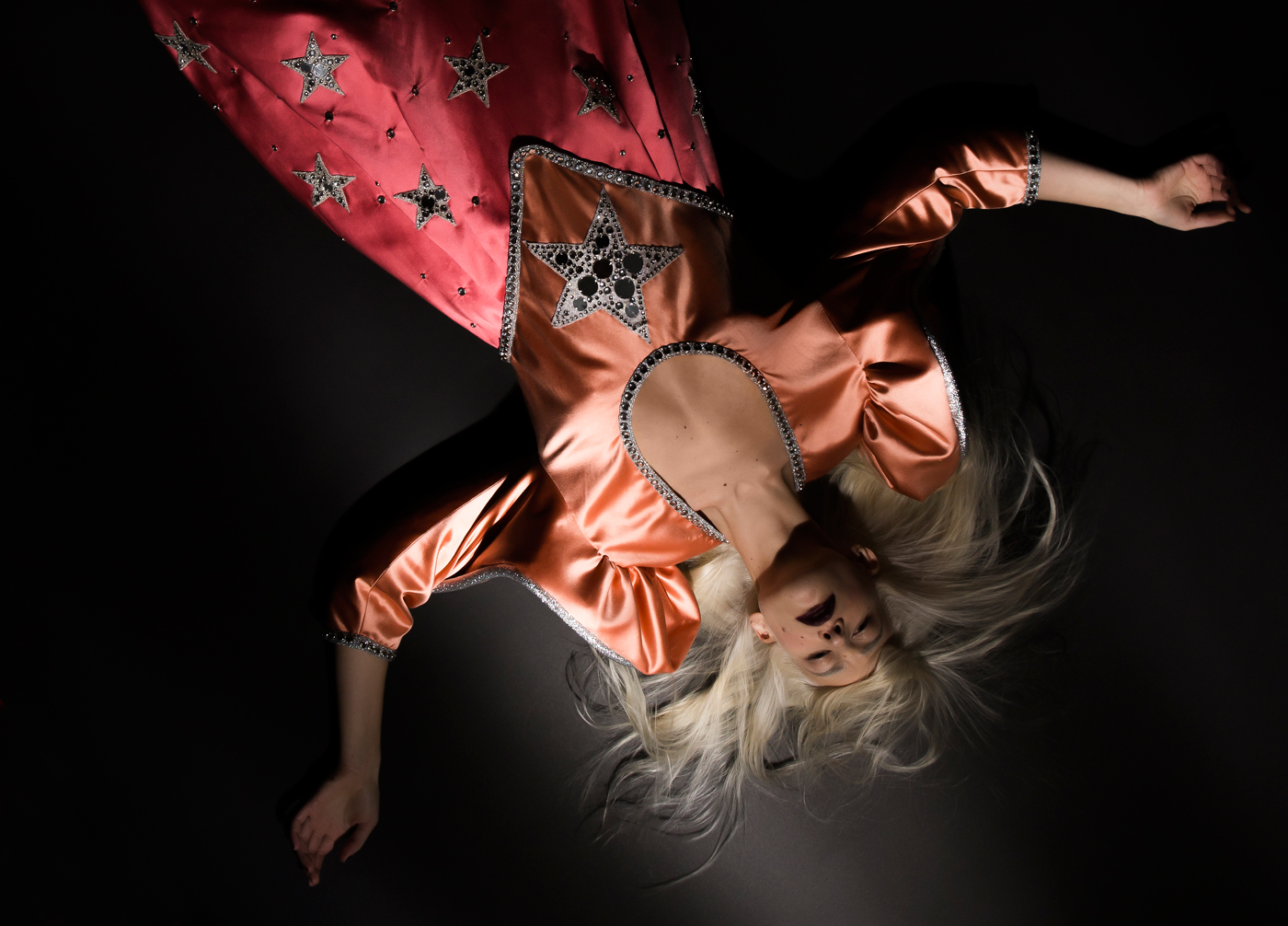 Last Piano Rainbow
At the age of three, the already musical prodigy left his family stunned by sitting on the piano and playing The Skater''s Waltz by ear. Since 1967, together with songwriting partner Bernie Taupin, only 18 when presenting Elton with the lyrics of "Your Song", who credits it their first rise to success, have collaborated on more than 30 albums to date. John wrote lyrical greatness in volumes, with an eclectic catalog from rock, ballads, soul, show tunes, blues and more. Following only Elvis and The Beatles, John stand on the podium of most successful artists in the record of American music charts. Gaining significant recognition throughout his iconic career, with an assemblage of awards, an Oscar among them, with hits like Tiny Dancer, Bennie and the Jets, Can You Feel the Love Tonight, Candle in the Wind and Crocodile Rock John has left a legacy of soundtracks that illuminated an era and its stories.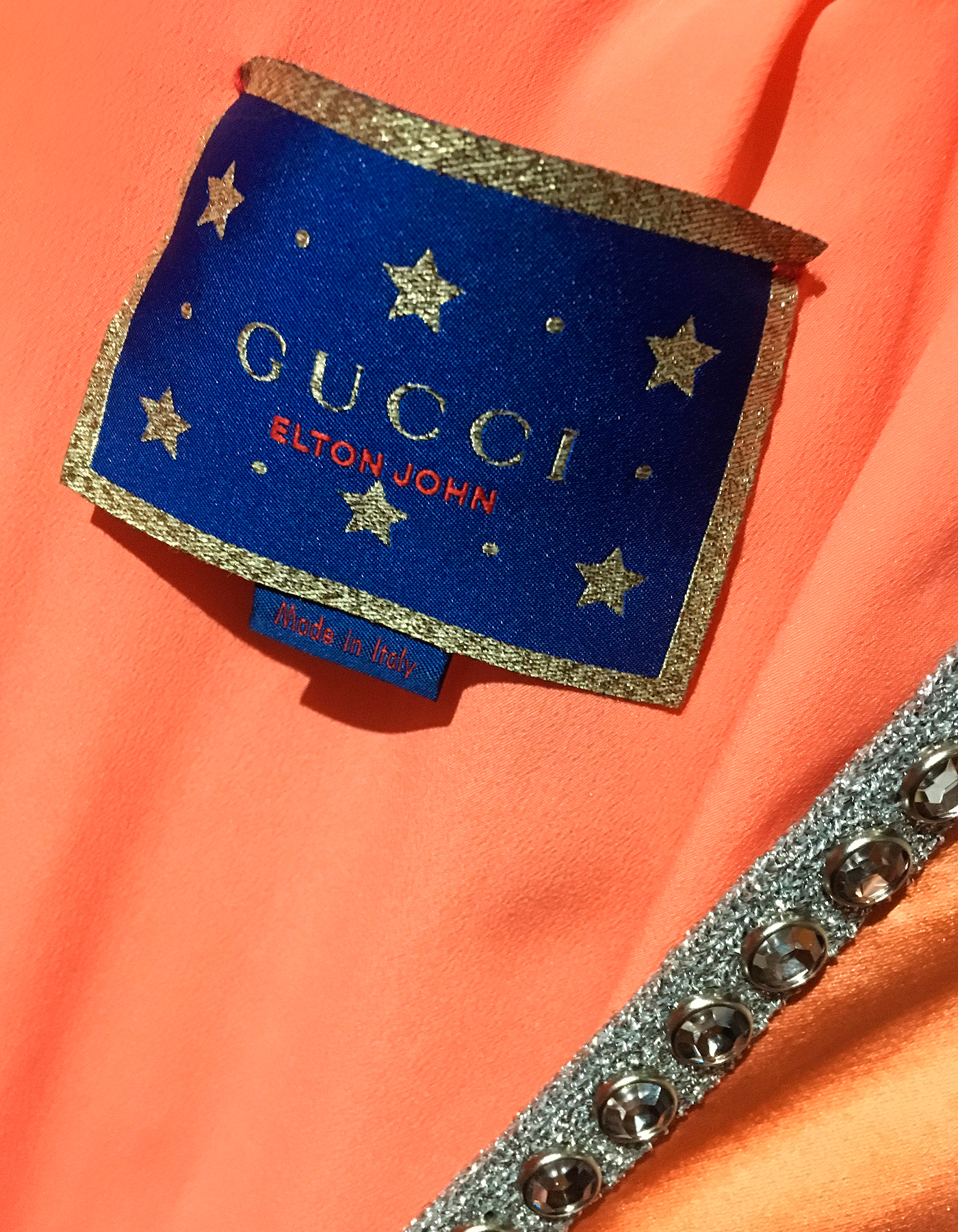 "Take me to the Pilot", Take me to Italy
With proximity to the country due to its culture, Elton John was a close friend of late Gianni Versace Italian icon, fashion designer and founder, and is today a close friend of Alessandro Michele, responsible for Italian Gucci's current collections and global brand image since 2015.
"I love places that have an incredible history. I love the Italian way of life. I love the food. I love the people. I love the attitudes of Italians." – Elton John explains what Italy means to him at Colosseo in 2005.


Talent | Tea Falco | Next Talent Management, Milan + Stefano Chiappi Management + Rubik Comunicazione, Rome
Make up | Barbara Ciccognani | MH Artist
Hair Stylist | Pierpaolo Lai | Julian Watson Agency – NY
Model | João Lucas | Next Models Management
Make up | Théo Carias | MKS Milano
Hair Stylist | Daniel Manzini NYCE (New York Cosmetic Experience)
Models | Tsubasa and Kamui | Independent Models
Make up and Grooming| Barbara Ciccognani | MH Artist
Coordinator | Andrea Bassi
Assistant | Leonor Proença de Carvalho
Art Retouch | Carlos Mesquita | Influxus