Text | Icarius De Menezes
Art Retouch | Carlos Mesquita – Influxus


MILAN MENS FASHION WEEK AW 2018/19 : BRAND IDENTITY

This season has seen a great movement on the part of each brand to reveal their identities, the intimacy of their DNA, the material from which their ideas spring. In this historic Italian moment, real brands are the true 'influencers' of Made in Italy. They are the ones who tell the 'Made in Italy story', of a tailoring of excellence in a manner that is both contemporary and communicative.
Although absent from this week, Alessandro Michele's presence is still felt. Leading all in Italian fashion to aspire to be themselves, his own signature style has been reproduced extensively.
After his boom and worldwide success, spurring the appearance of the Gucci inscription seemingly everywhere, the brand is now desired by a new generation. This concept affects all Italian brands that are witnessing the magical success of Gucci, which has never had commercial success such as this throughout its history.
Indeed, the effects have been felt outside of Italy, with the French brand Balenciaga recently making moves to more clearly express its logo, actions which seem to validate certain discussions about 'Guccification'. In any case, Alessandro Michele demonstrates that even exaggerated concepts and graphics can be presented in an intellectual, elegant and sophisticated manner.
In this Men's fashion week, Italian brands have shown the genius of re-establishing themselves, revisiting their histories, and replaying what they have been through their graphics.


PRADA,
DEPOT CHIC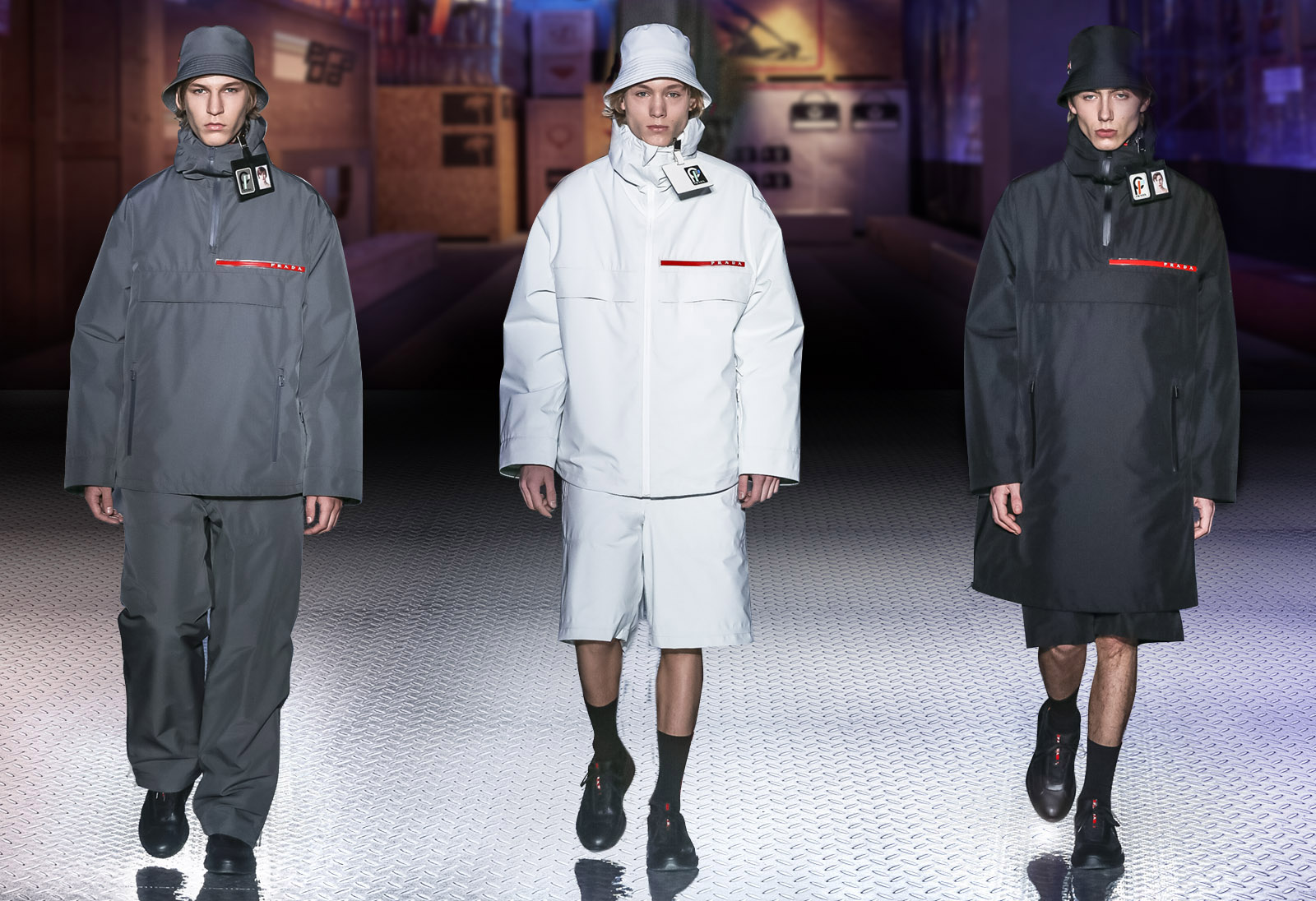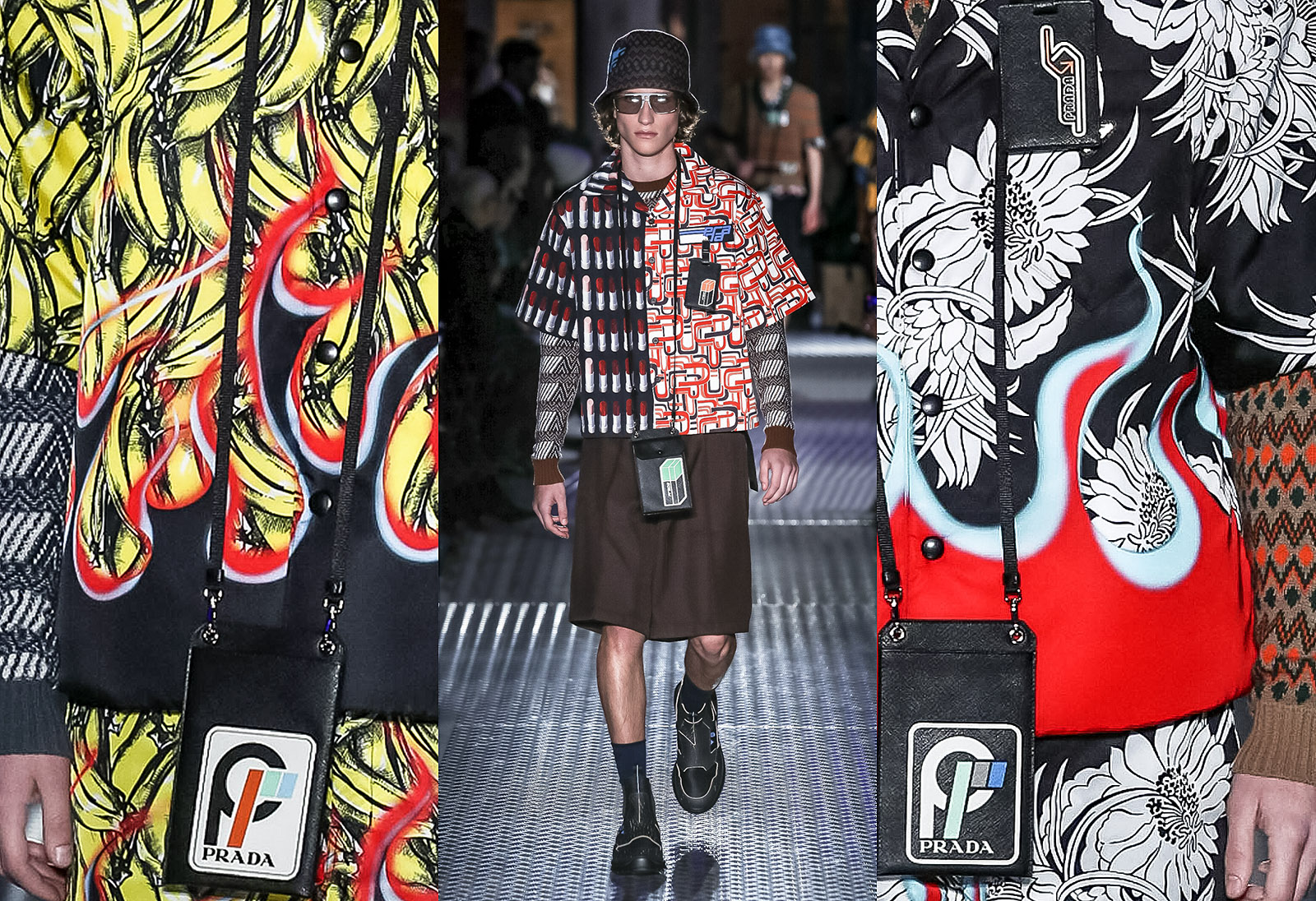 It is well known that all are fascinated by the airtight backstage of a fashion show, in her show, Miuccia Prada takes viewers a step beyond, over to her fictitious warehouse.
In a warehouse, already belonging to the fashion house and close to the Prada Foundation, huge crates, containers and packaging rest among objects from the Prada memory, from robots, to bananas, to the flame sandal.
All designed by architects Herzog & de Meuron and Rem Koolhaas of the Prada Foundation.
The industrial tone in the line is explicit in the use of nylon, a material that Prada has used for years.
The famous line of nylon bags that are the carryovers of Miuccia is reinterpreted in the hands of the artists Ronan & Erwan Bouroullec, Konstantin Grcic, who have created ad hoc products interacting with what is the base and the DNA of the brand.
Some models have a patch flanked by their photo, and emblazoned with a stylized rubber "P". Long-sleeved shirts tell the story of the first fabrics in the Prada collection, recalling the first women's prints, the lipstick and bananas of Prada past.
The historic blue-brown-white striped shirt and prints of the first Prada collection, which starred Caroline Murphy, is reinterpreted in a patchwork mix with archival prints.
The whole show has a purely summer look with combinations of long sleeves and short sleeves combined with shorts and socks.


VERSACE,
CHARACTERISTICALLY BOLD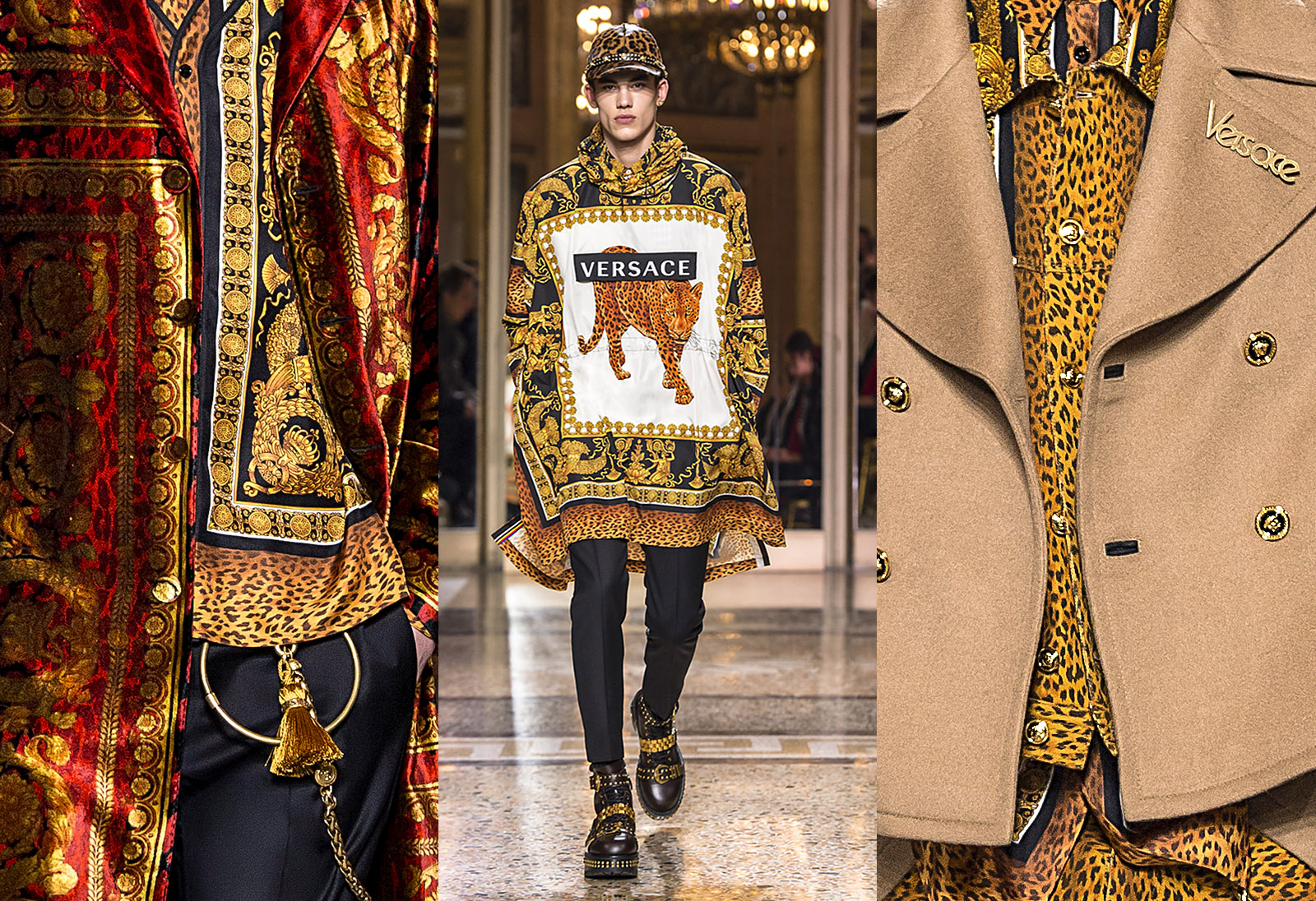 As in the previous season, Donatella seems to harmonize effortlessly with the brand DNA created by Gianni. The Spring-Summer 2018 women's show entranced us as it has never done before, entering history, bringing us once again Gianni's history and that of the brand, a history of bold persistence which seems to finally find it's stride.
Following this thread, the men's collection continues to pull from the fantastic historical archives of the prints and the quintessential Gianni headscarves.
Continuing in her line of self-promotion, Donatella revisits the color charts of Gianni and refreshes the brand with a foulard t-shirt featuring a great cat supporting and emphasizing the Versace brand. Although Donatella has no need for further promotion, already celebrated during the Lady Gaga concert at the Milan Forum, the name of Versace triumphs in Germanotta's electric presence with her dedicating a song to the family. This musical tribute displays Versace's powerful brand positioning in an emotional, natural moment.
The Versace logo appears boldly with clear references to the Versus brand, with the "V" and the address of the Headquarters of Via del Gesù 12, printed exaggeratedly on the scarves. Even in the absence of a logo, Versace prints need no introduction.
The bleach blond newcomer model João Knorr, opening the show, also very summery, seems to represent the strength that Donatella brings to the brand. All can remember the blond image of Donatella and the historical images of blonds supermodels.
Each look seems that of a rapper, a singer, an actor, a celebrity, each confirming the Versace brand identity. Bold.



N21,
COOL DISCRETION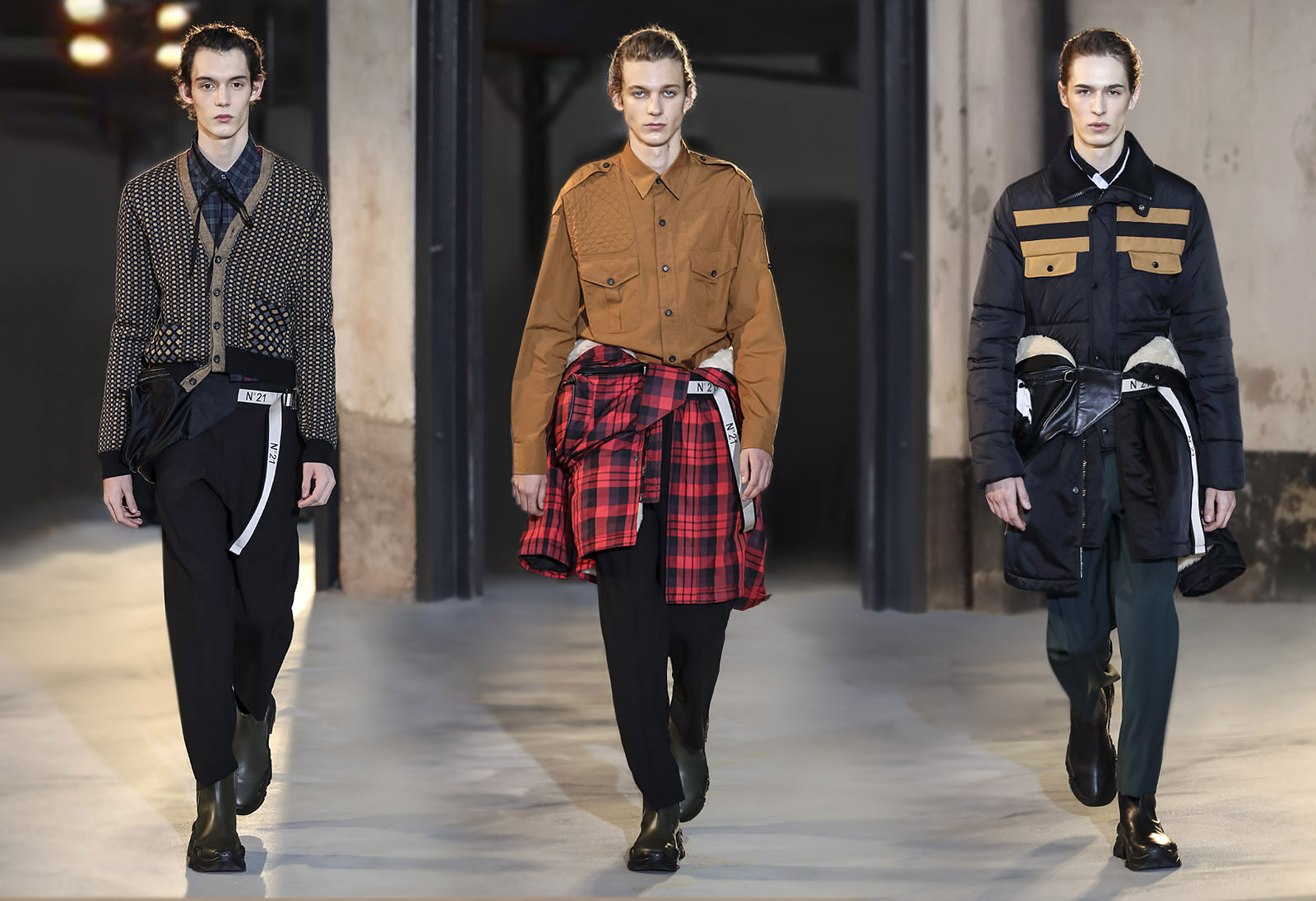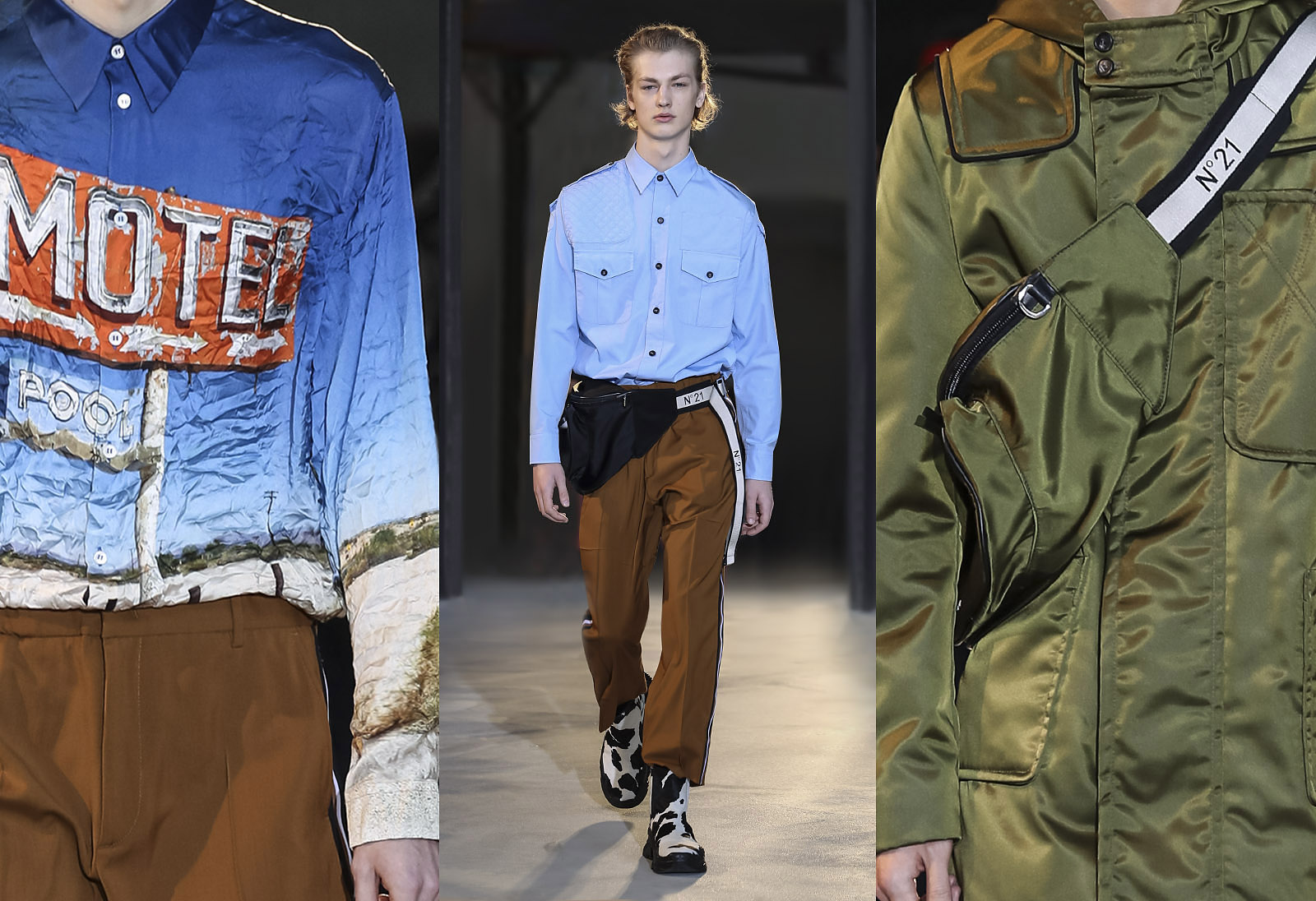 The brand of Alessandro Dell'Acqua, one of few Italian designers not to include a single female figure during his show, in a few short years has created a strong following thanks not only to his talent and his charisma as a designer, but also to the graphics of his brand that have become among the most popular online since the genesis of his project.
Dell'Acqua continues to build his portfolio in a manner that seems to be "Bon ton meets Cool", playing within a color chart of blue and light brown, colors that now belong to N21. This light brown color somehow seems to replace the flesh tones present in its past female collections.
Its graphics and its logo have been represented intelligently and with discretion. As well, great attention is paid to the accessories: from the clutch bag, to the unique belt-like waistbands issuing from the jackets, tying together looks recalling the 90's and featuring Dylan Fender.


MARNI,
ENIGMATIC DNA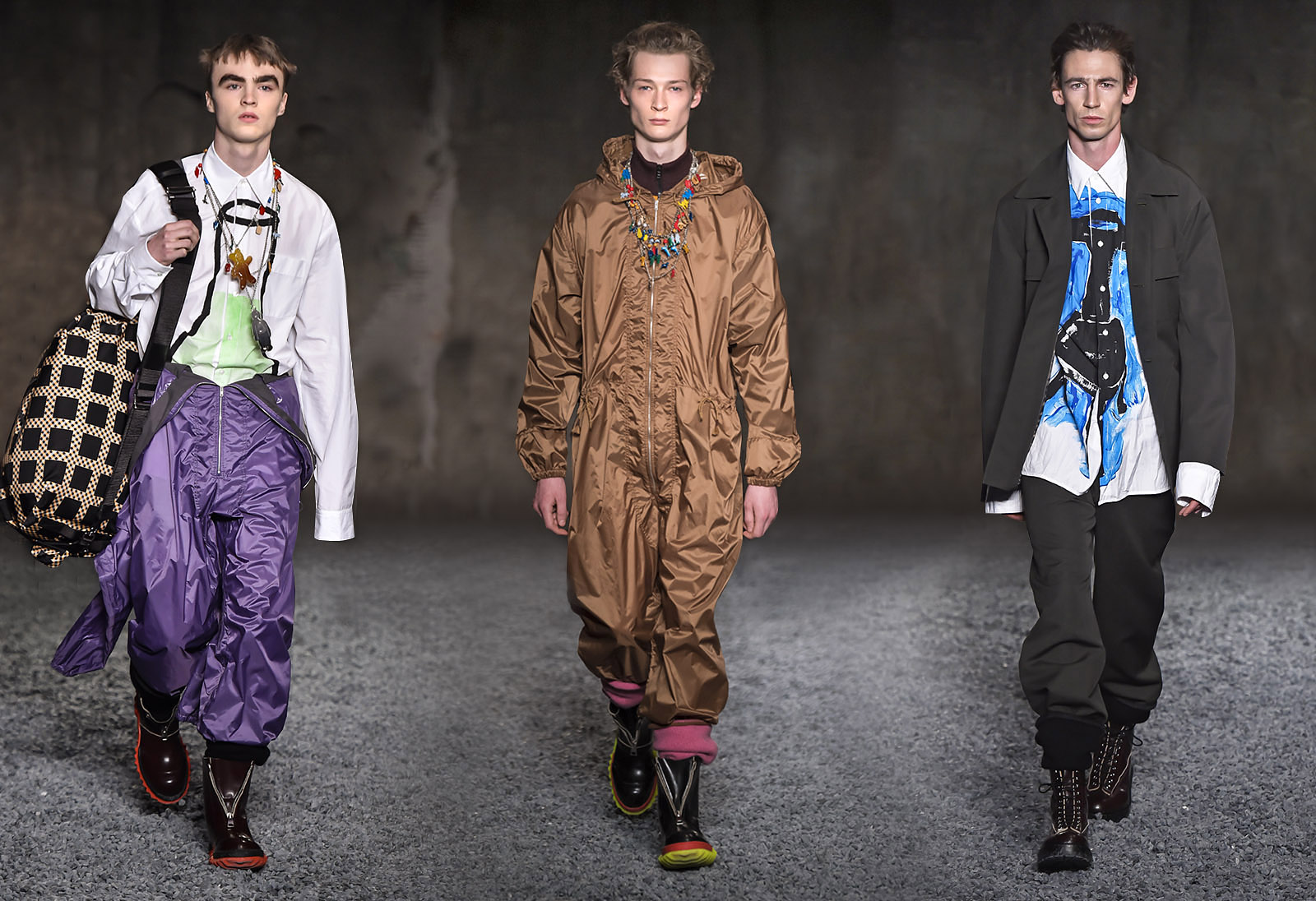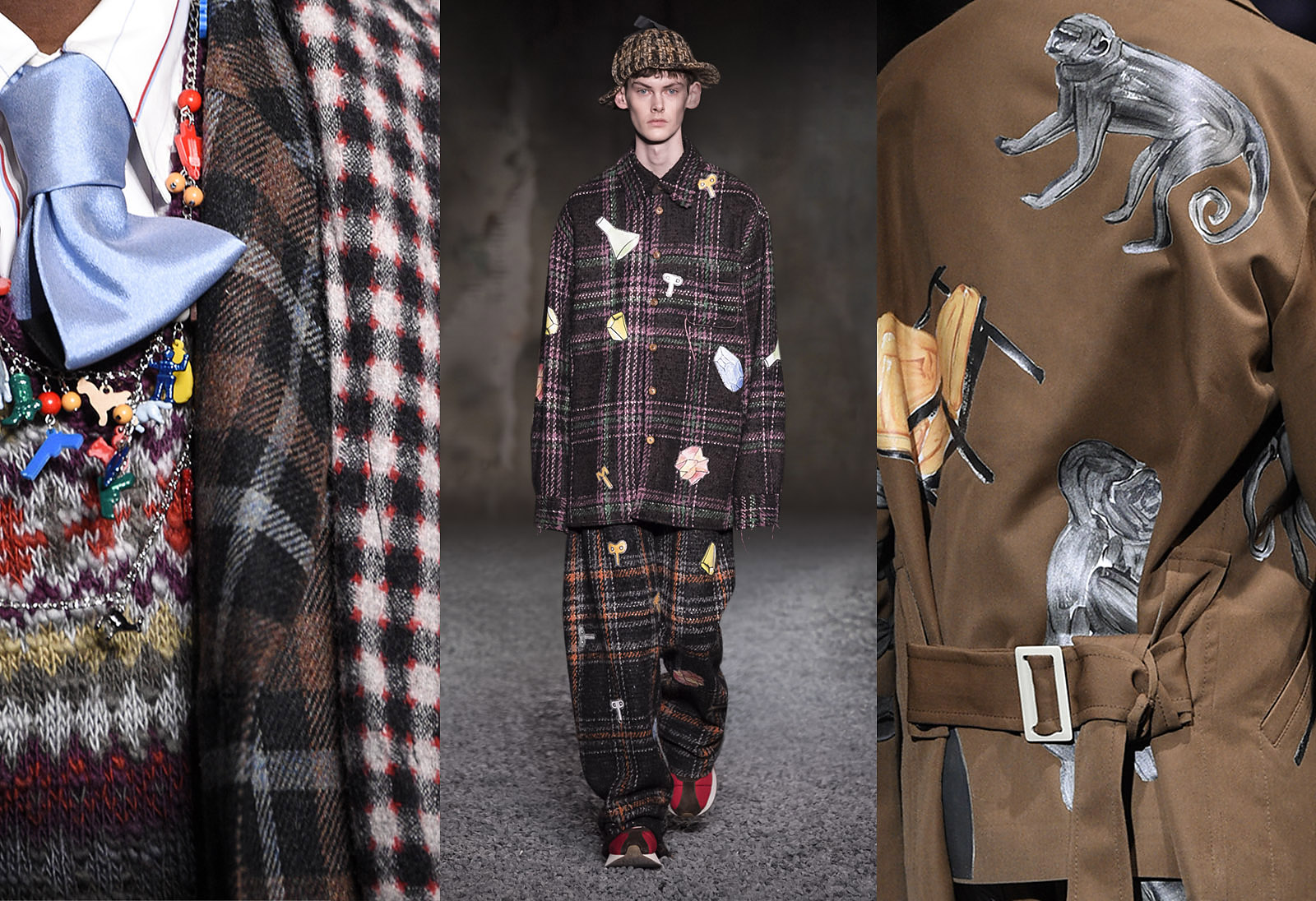 All of this purely young concept resonates with the MSGM logo, strategically positioned on the chest and in unusual points of the abdominal area, all in harmony with smart illustrations of male hands, fingers crossed.
The total look is revisited in the matching of the shirt and tie made of the same material. Positive messages in a compelling presentation, like the desire to change.
Important is his promotion of the total look— pink, flesh tone, red, military green, light brown and yellow. Models parading with handpicked books send us to the university period and the ties under the bomber remind us a bit of the Bocconi style.
Massimo Giorgetti epitomizes this season's emphasis on Brand DNA in the single word: Identity. This bold move seemed to signal the replacement of the MSGM logo with only one exception: when showy brand lettering flashed the MSGM name from the back of a military green silk satin shirt.


ARMANI,
ITALIAN MEN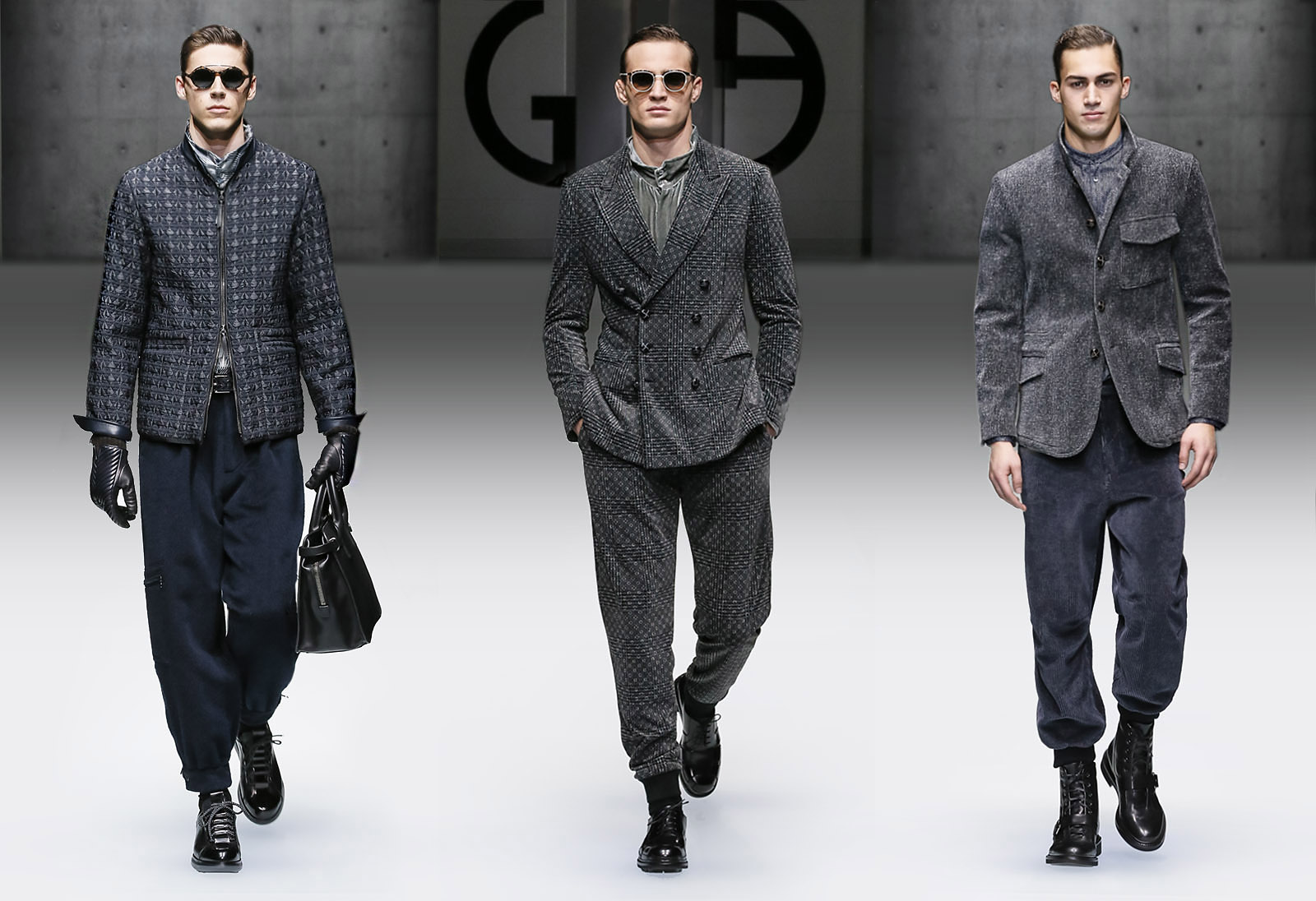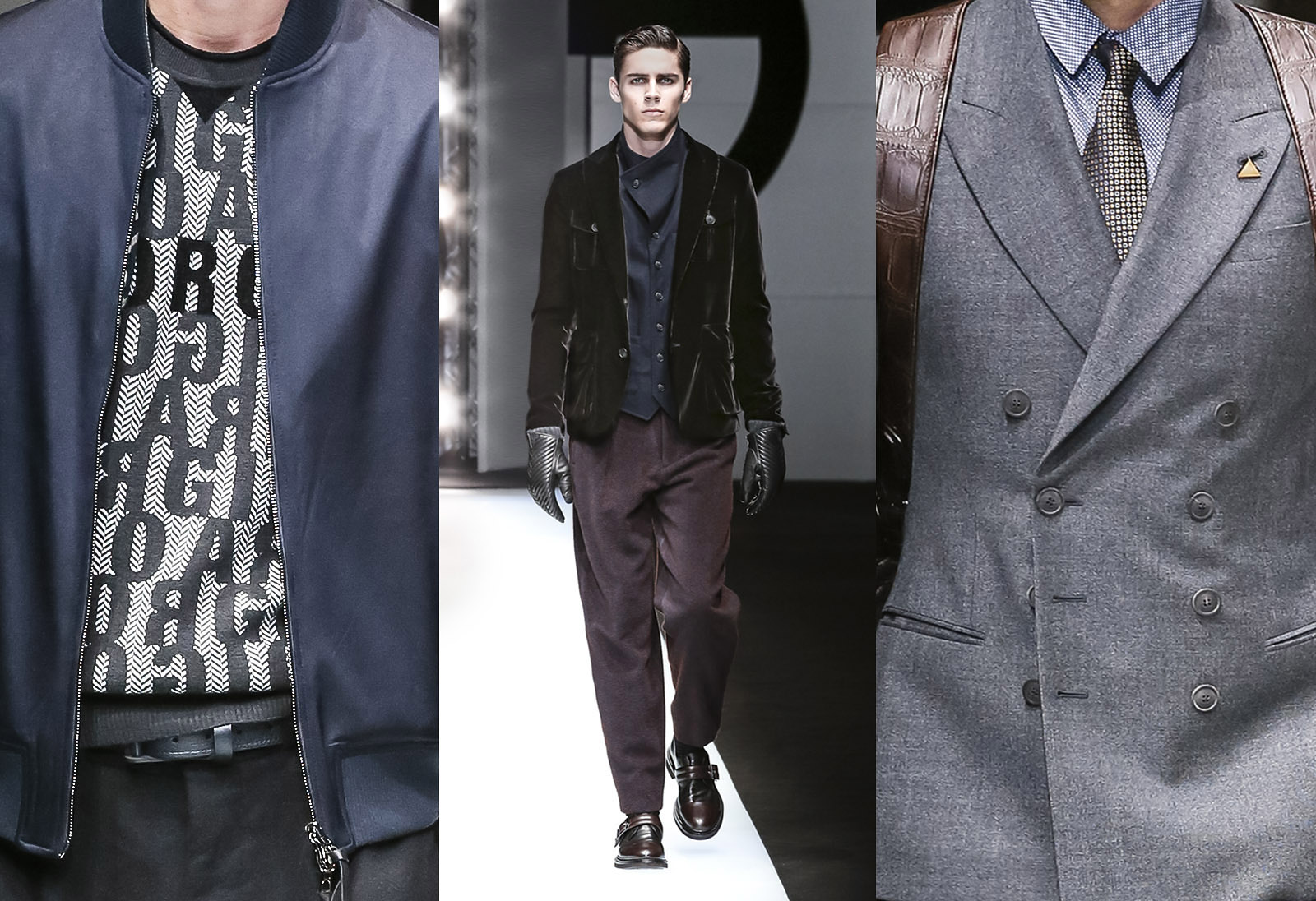 Following a thread that has now become institutional, Giorgio Armani continues to affirm his masculine conception that has become the image of Italian men worldwide. As an overview of his impeccable brand, this fashion show displays the best of the Armani style.
The jackets, the coats, the now forgotten double-breasted buttons and the noble styles in velvet and jacquard become total looks. There are historical, aesthetic touches from the '80s and '90s, strong jackets over shirts with Korean collars.
Bags and gloves define a winter tone. A t-shirt under the jacket defies the concept of luxury, yet at the same time it is embellished by the lettering "GA" in a quiet, tasteful monogram.
Armani even offers models as if they came out of the brand's inner workings, presenting them from the GA logo, telling the historical path of one of the most important fashion designers in the world.


DSQUARED2,
WESTERN EXPRESSION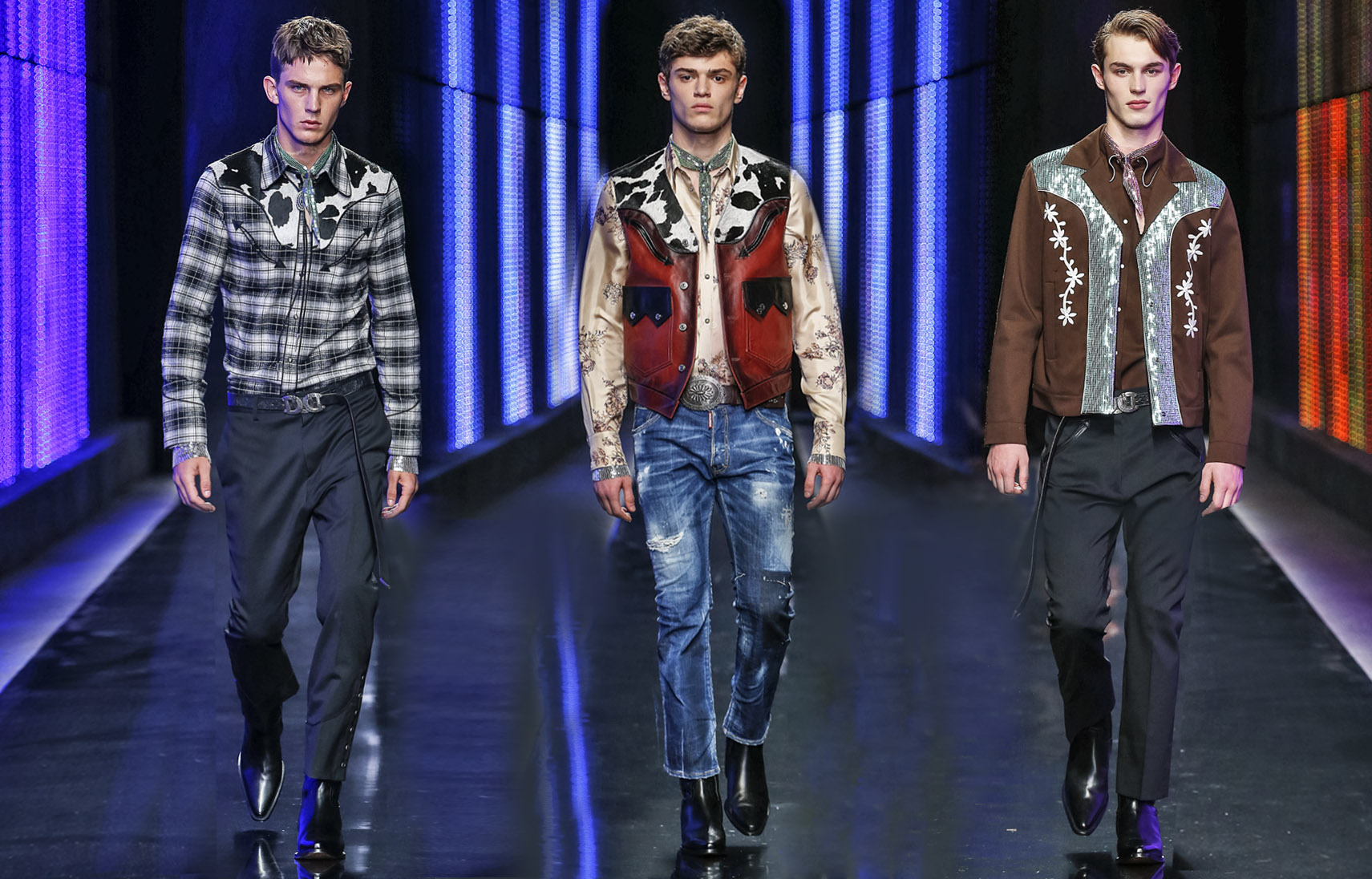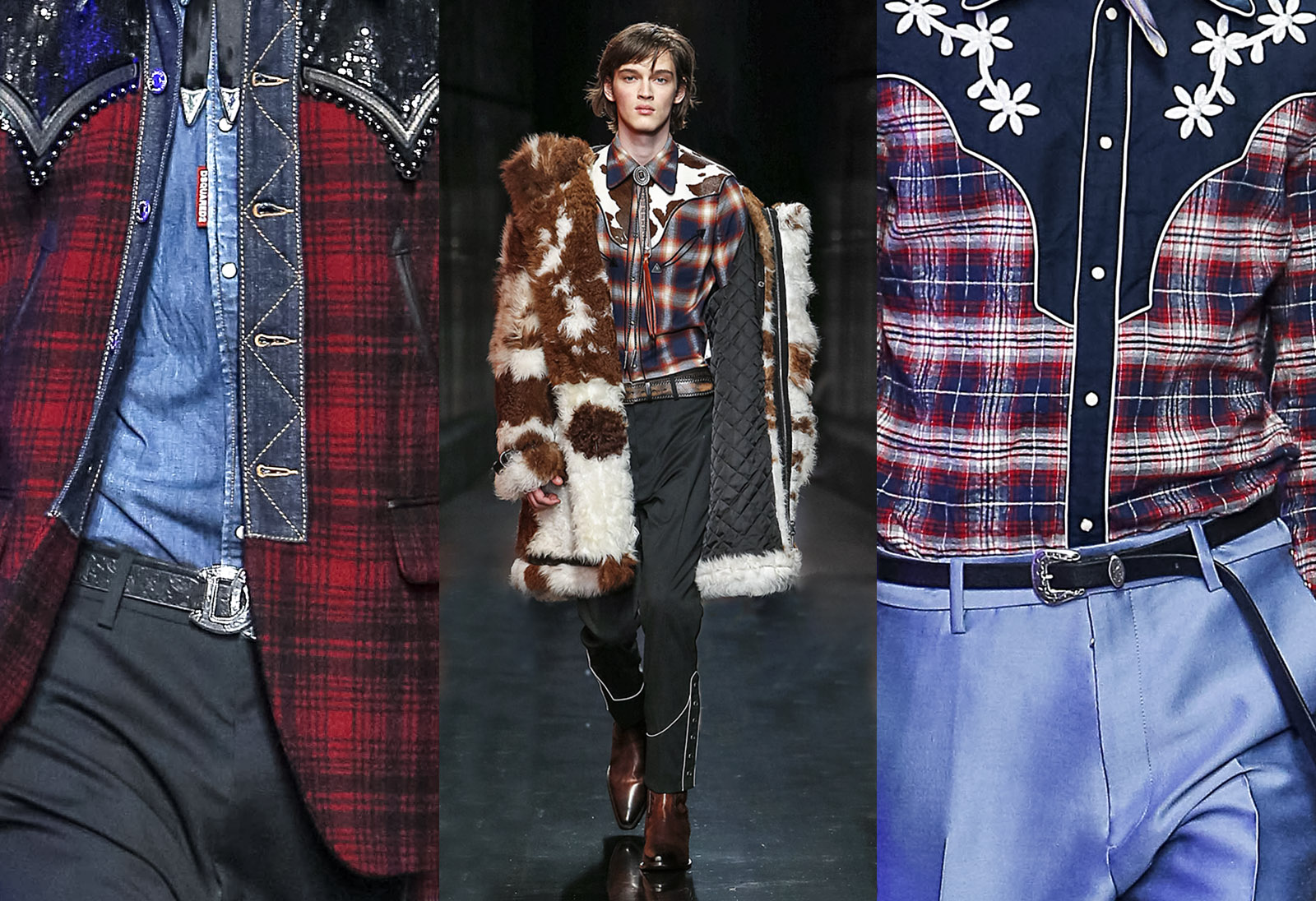 This event took place near the Prada Foundation, in an old wooden house that seemed to transport the onlookers directly to Texas.
It is not so long ago that the Carter brothers celebrated Madonna, in the video "Do Not Tell Me", and they seem to be returning to their essence, to the cowboy image reminiscent of old Marlboro advertisements.
This country style or fetish for the West continues to belong solely to Dsquared2. The revisiting of their shirt, the variants on the plastron and the classic, impeccable rodeo shirts promote the DNA of the brand. They pull the logo into the buckles of their belts, and feature Levi's style labels on the shirtfronts. All in cowboy style.
Furs with cow print, flawless boots, snaps, jewel tie-downs and long belts reminiscent of the lasso at a rodeo. Following the trend of all the fashion shows, boldly masculine checked prints.
The jeans are wild. Torn, washed, worn as if they just rose out of the dust of a rodeo race.
The belt buckles promoting the Carter brothers are horseshoes kissing in buckles, the flag labels are positioned in the closure of the shirt or in the closure of the trousers. A subtle but clear nod is made to Levi's style.



FENDI,
FASHION TRAVELLERS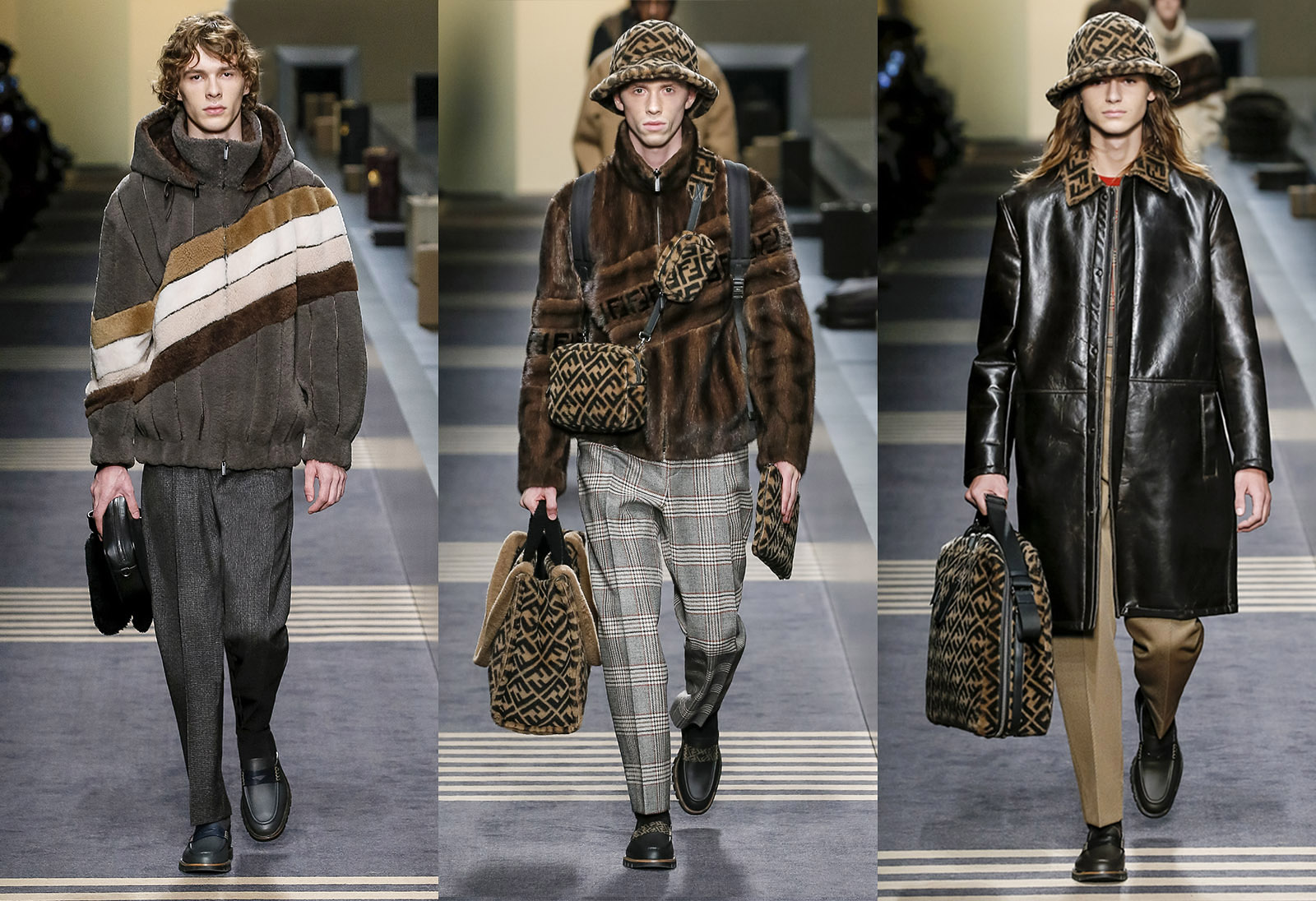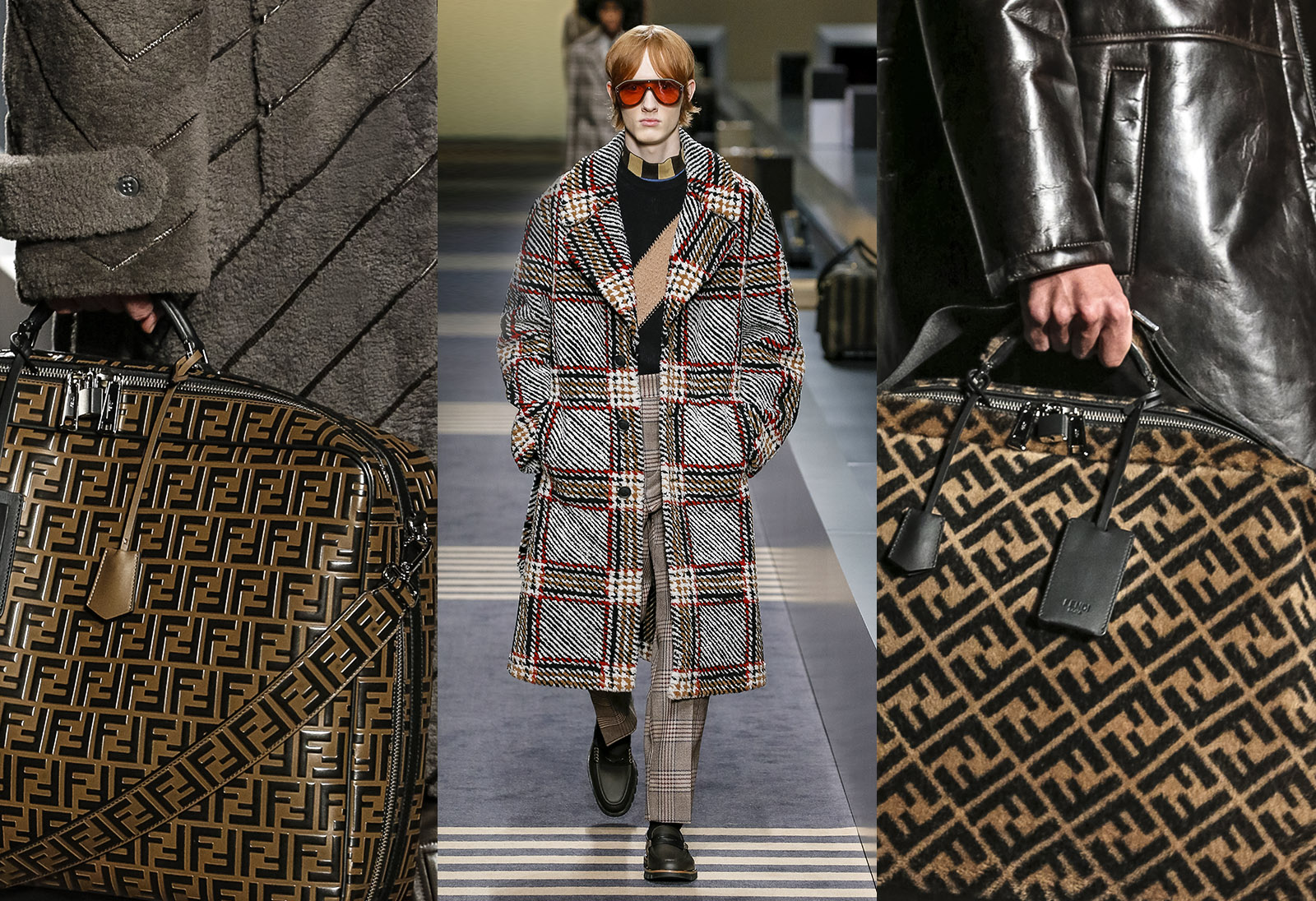 The brand transformed their MFW space into a Fendi International Airport terminal. Leather, fur, tech fabrics— all highest quality and all Made in Italy—supported the Fendi logo with varying earthy shades of brown and grey.
Some of the brand's hottest new accessories were showcased on the baggage claim conveyor belt, a playful way to display some of the most expensive leather and fur goods around. Chic duffel bags were tossed aboard logo-decorated luggage carts and pushed through the show space. Finally, all of the models left the runway via a clever "Nothing To Declare" exit – and likely jetted right off for their next gigs at their next destinations.
Fendi, designed by Silvia Venturini Fendi is all about luxury accessories. The brand, after all, was founded as a house of "baggage, trunks and umbrellas" back in 1925. The Fendi Fall/Winter 2018-19 menswear presentation was a return to those origins, but also a deep step into the world of streetwear.
The designer label's latest campaigns have been about turning traditional workwear on its head, and this collection continues to play with that idea. Why carry a bulky umbrella and heavy laptop case while struggling in the rain when you can rock an umbrella hat with a cross-body satchel? Fendi is delivering vintage-inspired briefcases, suits, and slacks – but for modern businessmen on the go. Each piece is designed to work together— from the office, to the subway, to the commute home.


MSGM,
SCHOOL ROOTS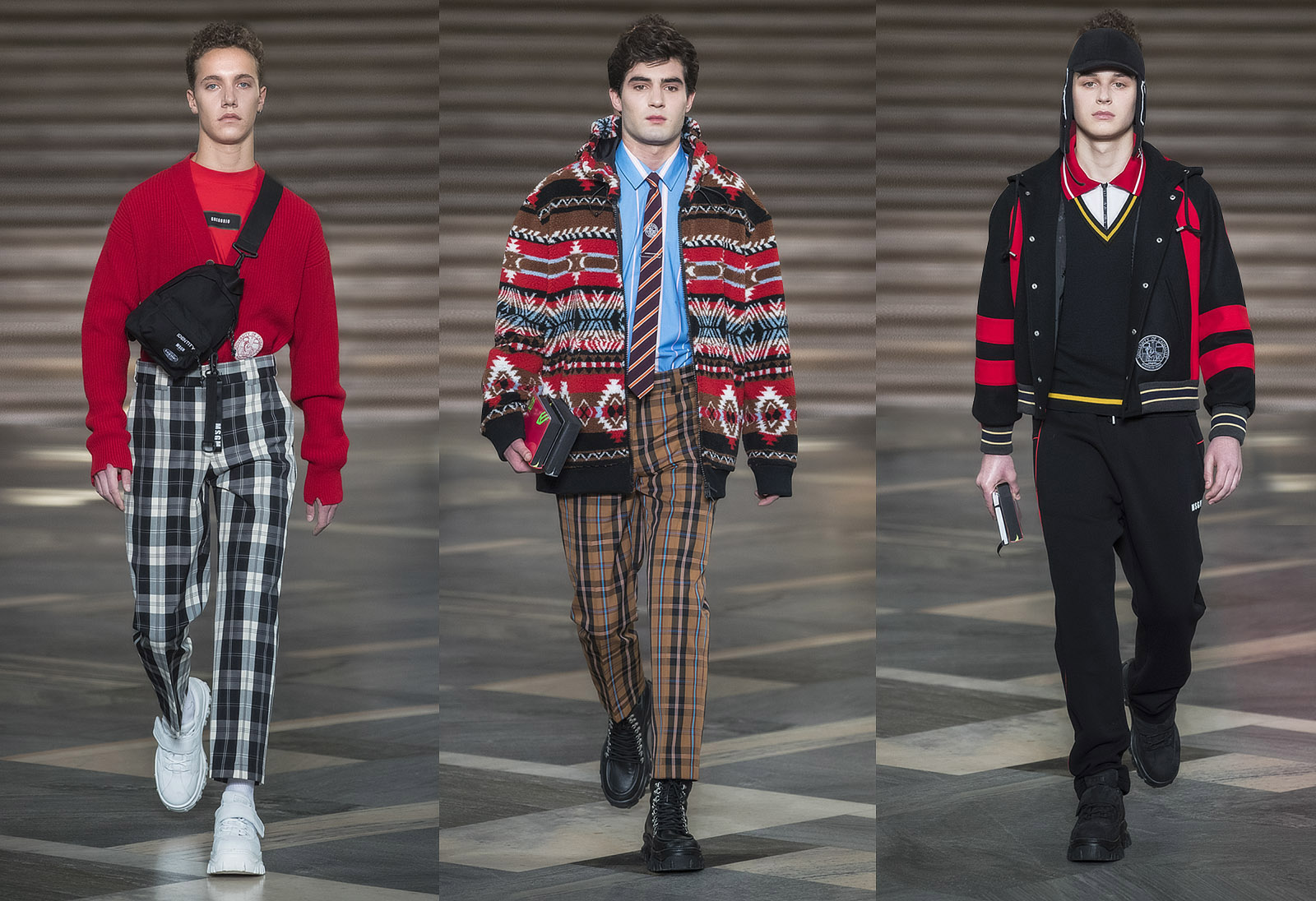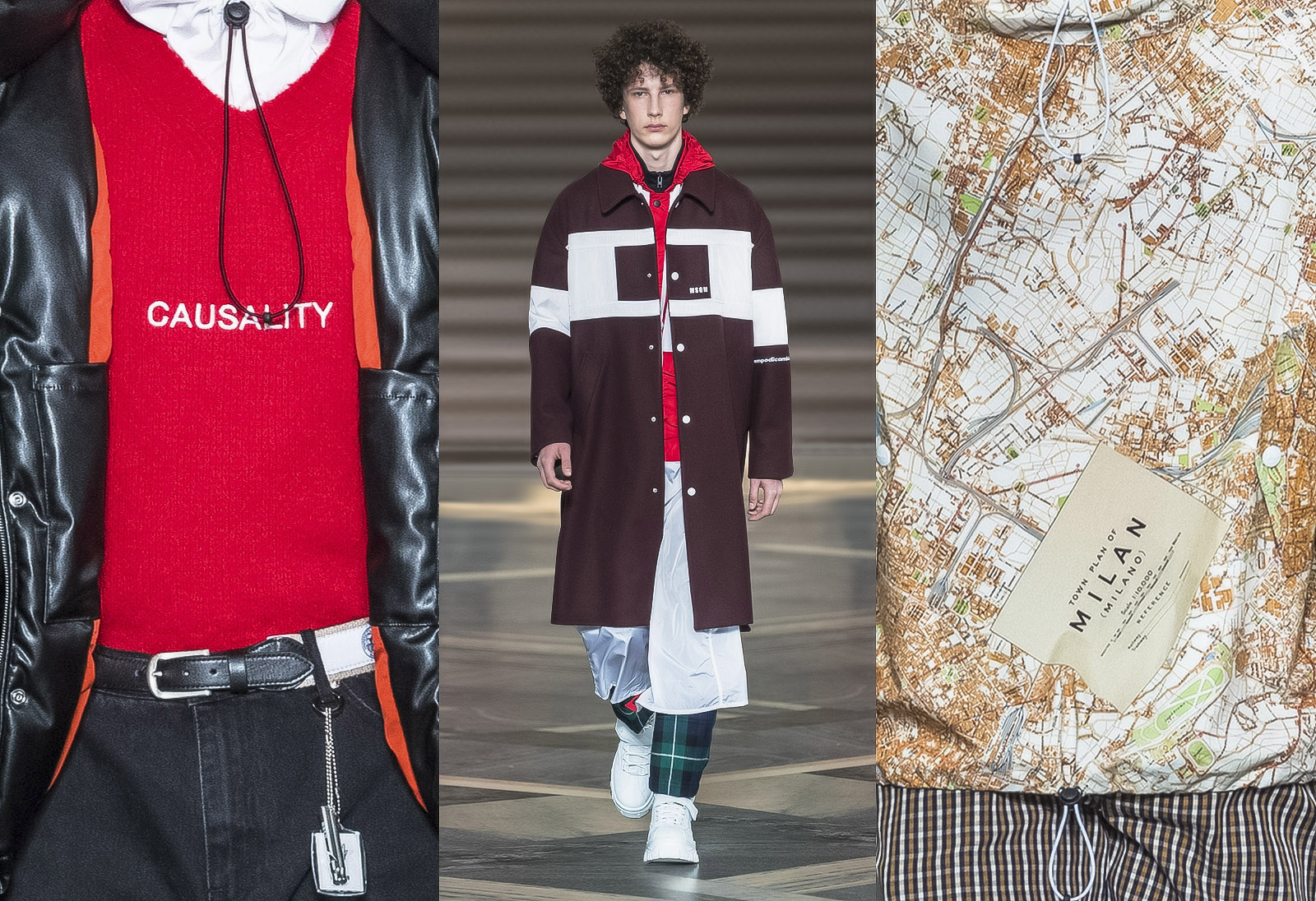 The invitation to the fashion show, held inside the University of Milan, is enclosed within a white envelope with a sticker that reads "University of Causality".
The show begins with the t-shirt "Time to change".
Keywords like "Love", "Identity", "Unity", "Causality", "Voglio vivere di inizi" and then "Milano ritorno lo giuro" surround the space and its occupants.
The parade is a pure celebration of belonging to the city of Milan, to the music of Franco Battiato.
All of this purely young concept resonates with the MSGM logo, strategically positioned on the chest and in unusual points of the abdominal area, all in harmony with smart illustrations of male hands, fingers crossed.
The total look is revisited in the matching of the shirt and tie made of the same material.
Positive messages in a compelling presentation, like the desire to change.
Important is his promotion of the total look— pink, flesh tone, red, military green, light brown and yellow.
Models parading with handpicked books send us to the university period and the ties under the bomber remind us a bit of the Bocconi style.
Massimo Giorgetti epitomizes this season's emphasis on Brand DNA in the single word: Identity. This bold move replaces the MSGM logo until the shows closing moments when, at the turn of the final model, showy brand lettering flashes the the name from the back of a military green silk satin shirt.



EMPORIO ARMANI,
YOUNG BROTHER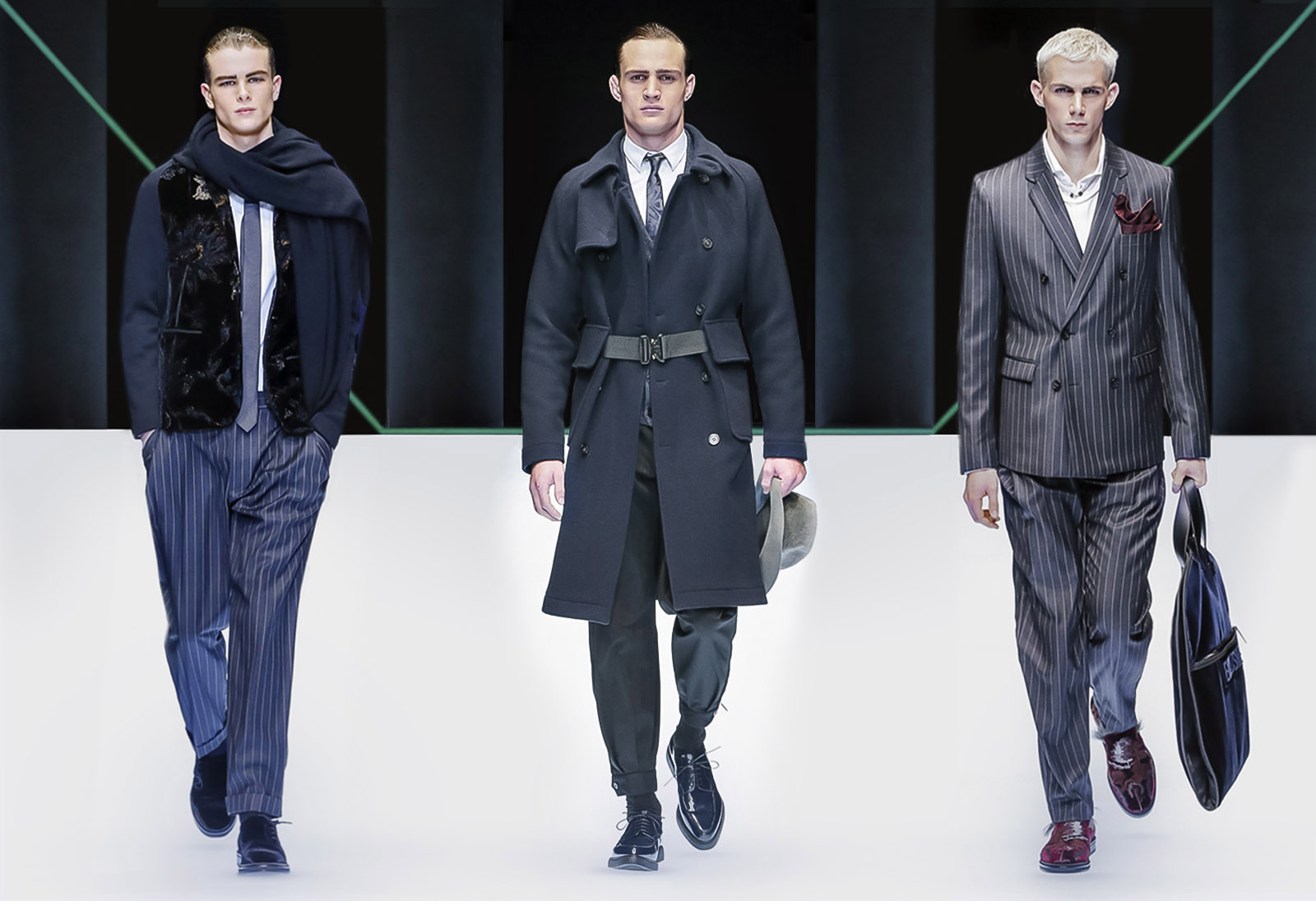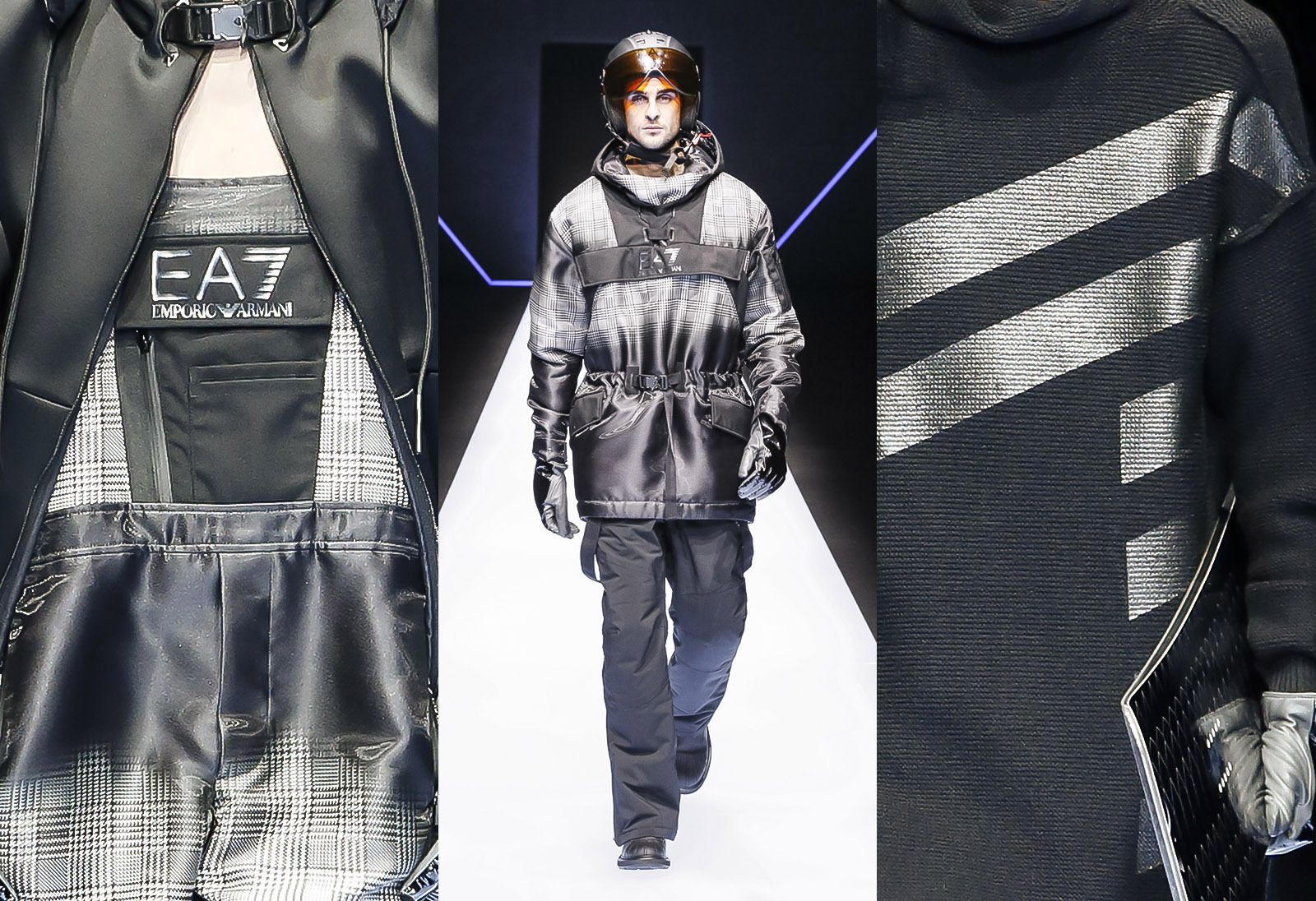 Giorgio's smaller and sportier brand immediately promotes the eagle of EA, leading the models on the catwalk directly from the logo.
Balancing his characteristic discretion and restraint with a more youthful sport culture seems the intention.
The models parade, in pairs or individually, a small army of athletes, bikers, workers, all branded EA strongly represent this new line.
The brand presents chamois, velvet, sheepskin, and fur coats.
In the show's closing moments, the room falls dark with a bull's-eye lighting up on the logo, illuminating Giorgio Armani himself.



DIESEL BLACK GOLD,
Graphic Shift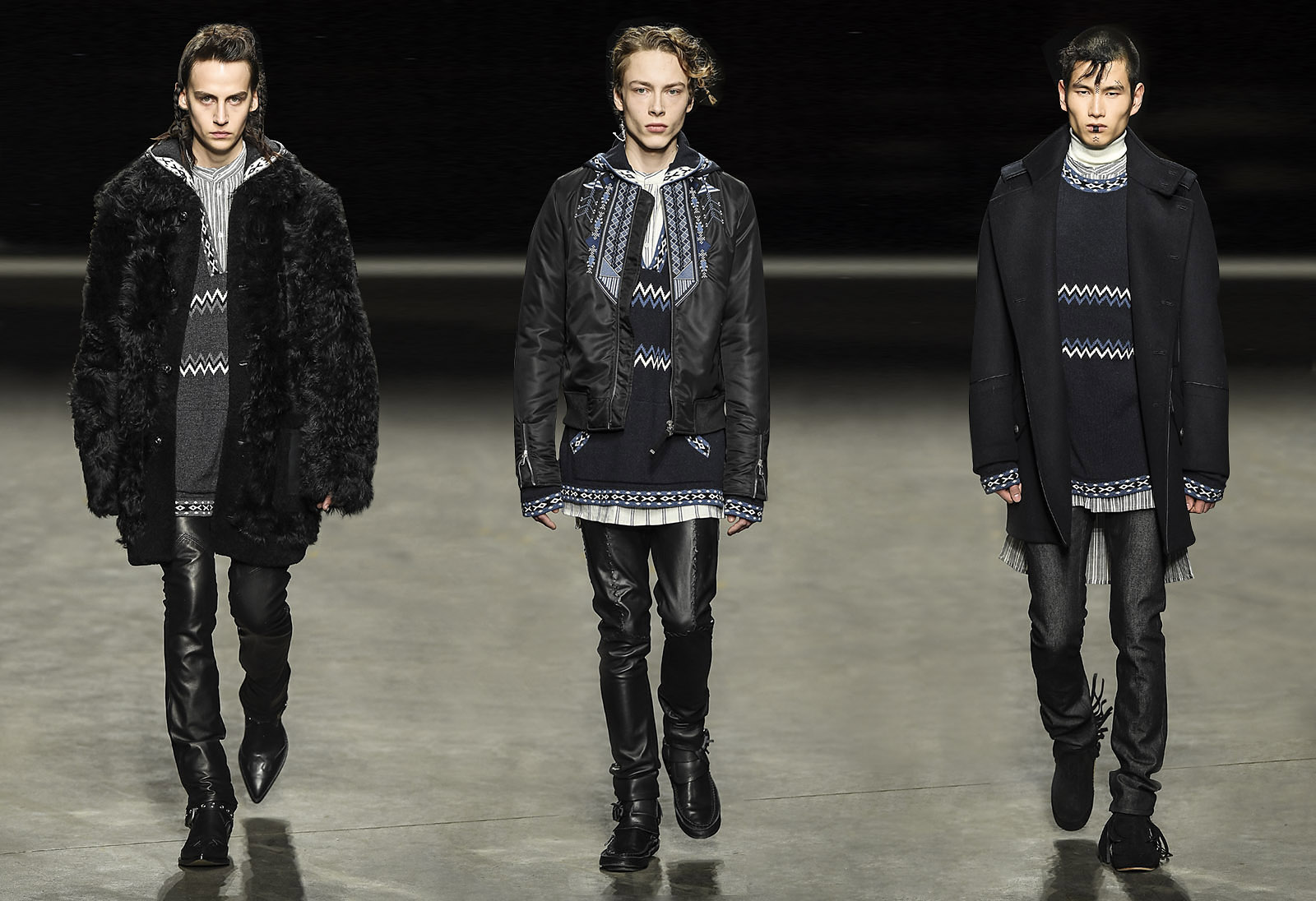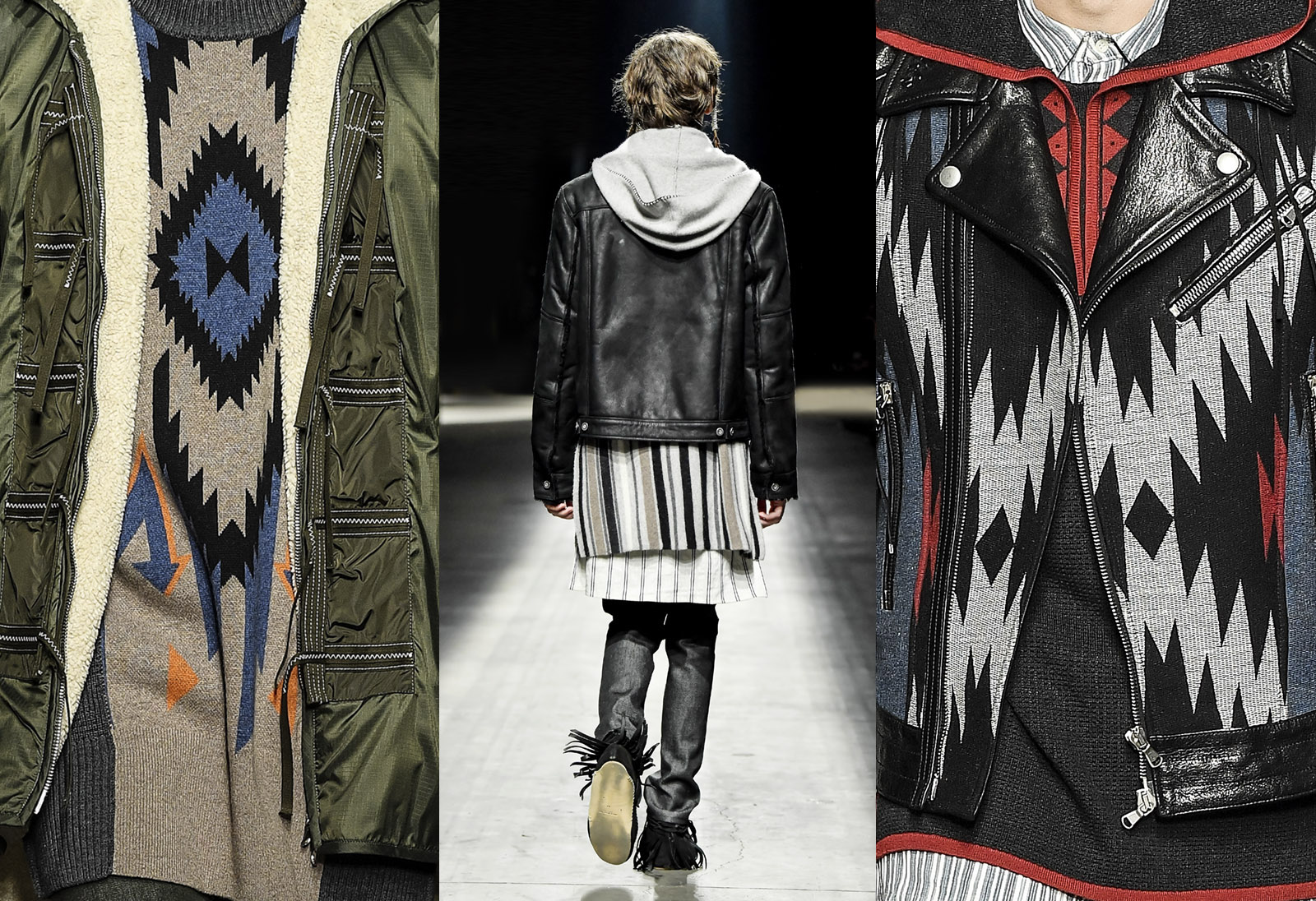 Despite the various brands explicitly expressing their identity through the phenomenon of Logomania, the brand of Renzo Rosso, strangely this season, does not show the famous Diesel stripe. As well, there is no connection with the famous "Only The Brave" logo with the Indian in profile.
The graphics of Diesel are expressed in an almost tribal way emphasized by the models' makeup.
Clear is the desire to produce and maintain a sophisticated image through the use of some total black looks that are punctuated by delicate folk embroidery.
Little is done in the way of identification or promotion on the denim and the classic elements of the Diesel Universe like the military nylon coat.
This collection marks what must be an intentional turn from the past with a more discrete usage of logo, yet still balances this with classically Diesel elements.
The military wool coat with red edges particularly recalls the good times of Diesel Style Lab.



COUNTY OF MILAN – MARCELO BURLON,
BEING UNDERGROUND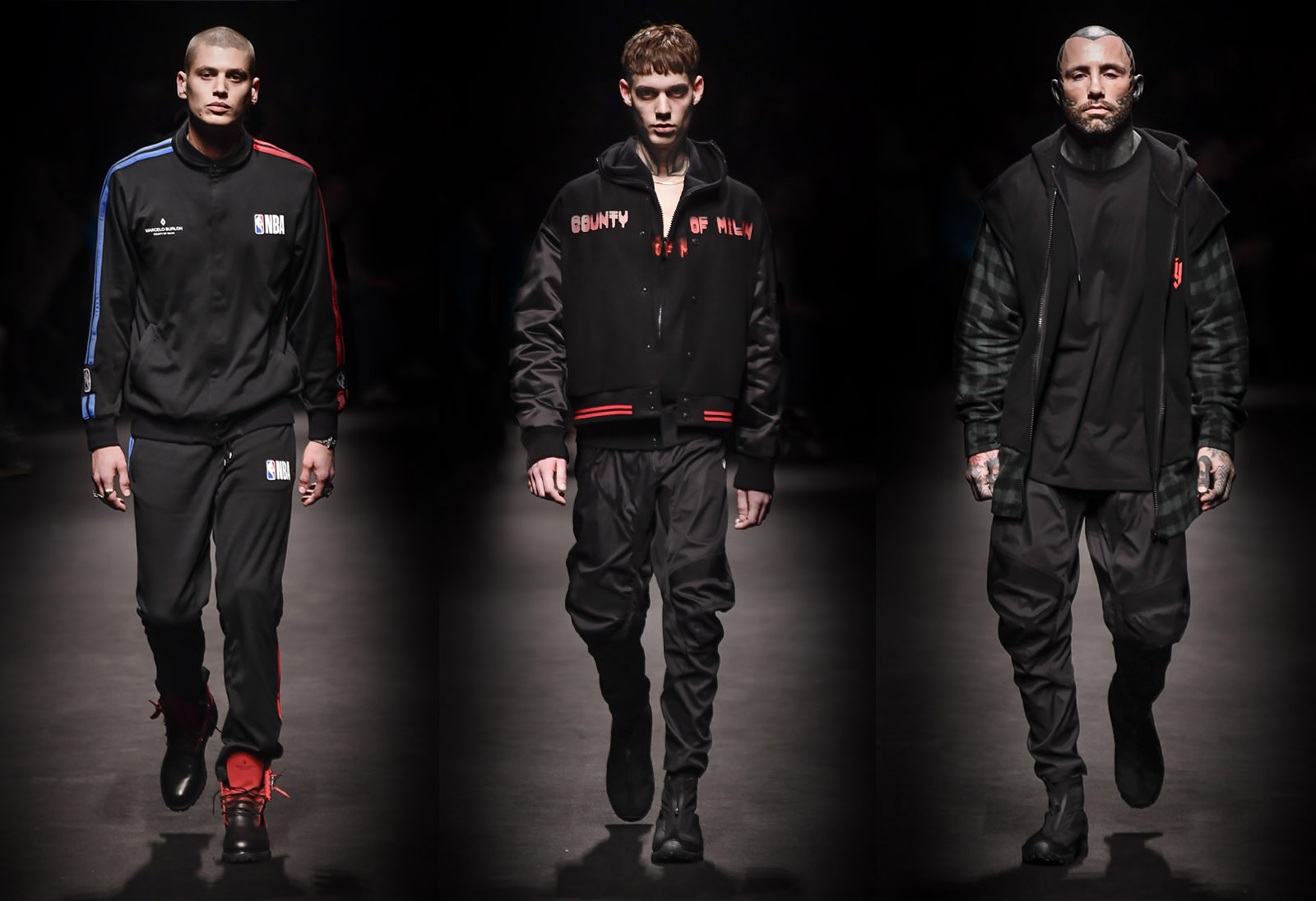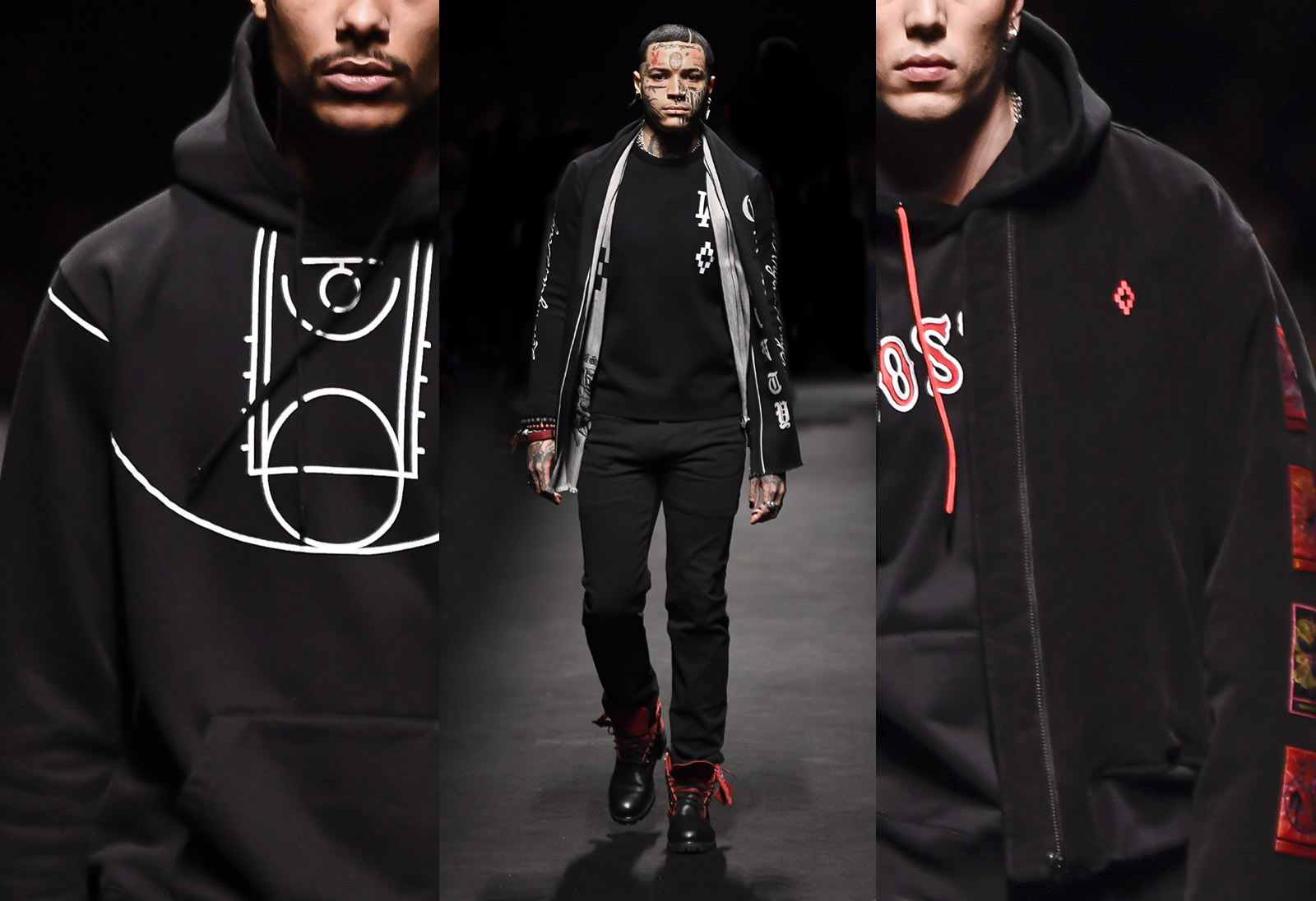 Agonism and pragmatism are the main themes of the Marcelo Burlon fashion show.
After the explosive success of Marcelo Burlon through his music and brand, his multicultural following affirms its growth, its identification, and the recognizability of its logo, a cross that seems a ward of protection and strength for this bold brand. This same logo takes over the entire set design of the hall.
In the middle, on a cross-shaped platform, a BMX rider acrobatically rides to the live music of Marcelo, the Guru himself, at a digital console.
This was a stripped down presentation supporting a casual style, where comfort and attitude are in symbiosis and a casting that seemed to have come directly from the San Vittore prison. Musicians, rappers, and underground characters generate the essence that is the soul of County of Milan.
The graphics focus on the world of sport. Marcelo plays with the graphics of his brand in gothic sources with points of red, white and blue always on a base of black, inspired by and collaborating with NBA-National Basketball Association, MLB-Mayor League Baseball and Timberland. This co-branding defines County of Milan
The graphics of County of Milan revolve around stripes (Adidas style), outline drawings that match completely with the sought-after tattoos of its models.
His casual clothes speak directly to people. It is a dialogue that is created directly between Marcelo and the platoon of young people and followers, ever growing.