Photographer | Emilio Tini
Creative Director, Fashion Editor | Icarius De Menezes
Stylist | Valeria Marchetti

GUCCI

Isabella Ragonese is Italy's girlfriend, in her roles she commonly represents womanhood, plays the part of a lover, a traitor, a young mother, a friend, a companion, roles of emotional intricacy.
She considers herself lucky, not only for having played the various roles portraying the vast variety in Italian women, but also for having had the privilege to act alongside of the most desired of Italian actors such as; Luca Marinelli, Luca Zingaretti, or Michele Riondino, Francesco Scianna.
As a candidate for the 2018 David di Donatello Awards for the portrayal rendition of a peripheral woman, her circadian juggle between her strength, and her battle against weakness and imperfection for the movie Sole Cuore Amore (Sun, Hear, Love) . As a mother to four children, working contractless to support her household and while struggling with the everyday sufferings of a society imposed handicap she maintains herself a matron, further a true fighter, everyday warrior even, that has touched the hearts of Italy.
Presenting an Isabella, mindfully concentrated on what it is to be an everyday women today. Through extreme simplicity, a sumptuous elegance she will not fit or follow paradigms, maintaining a coherence and integrity belonging to a truesome actress and authentic self, with a respect for privacy and an undeniable focus in the true dramatic art. Leaving behind such big shoes to fill, maybe even her phone but never the smile of her lively light essence.


STELLA McCARTNEY

DAVID DI DONATELLO
"Sole, cuore, amore" directed by Daniele Vicari.
The film tells a little story, one that then becomes emblematic. To me she is a kind of Santa. It was like playing a heroine with an almost Christian-like humanity, where others always come first before even themselves. Withal, thinking always of others first, can make us forget about taking care of ourselves. This is the typical role of the female figure in our society, taking on many roles, in a sort of acrobacy. It is like constantly achieving the highest grades in all subjects at school. My character must always try to have a 10, as a mother, a worker and a woman. Doing so, always delivering her best, without any demonstration of weakness. A scene that struck me, was when she finds herself alone on the bus and begins to cry.
She does not allow herself at work, because it would be an exposed weakness, she also will not do it at home where her children might see because she knows that would cause them suffering. This is a female problem, a constant search for a moment for ourselves. Our never-ending attempt to maintain our perfect streaks, as we risk losing ourselves.
Mentally this becomes draining, because the sentiment of having built or rebuilt something seems so distant and unachievable.
For example I watched this year's Oscar awards.
I think that American cinema is going through a strange period.
I grew up with great movies, like Pretty Woman. Large production films.
Now, instead, I find there are more independent films and TV series have received immense attention and importance.
I found the Oscar a little less freak this year. It gave much more space to women, to Mexican cinema, a greater presence of actors and actresses of color.
Though it seems many films by Ferreri or Pasolini today, would probably have never come out for a series of preconceptions.
Contrastingly with the popular notion, I believe we have had much more freedom in the past.
Today there is a kind of self-censorship.
I am very happy with my candidacy with Sun, Heart, Love and Daniele Vicare for the 2018 David di Donatello Awards.
I am not feeling anxious.
Of course I would be happy to receive a David, as I would for all prizes.
However I do have a special regard for the jury for this award, it does not follow comercial or popularity based paradigms.
It is an intellectual, correct and academic honorary organisation I would be proud to be recognized by.
Also since there are actors and actresses in the industry I consider geniuses. I believe that in Italy we have a very valuable group of actresses. I do not have a favorite actress.
I think of all the candidates, like me, are very good and have learnt from one another.
STELLA McCARTNEY

ANTI-FASHION ACTRESS
While in the current world of cinema there is no longer a Fellini, in fashion Alessandro Michele was born, causing such positive commotion.
Also Icarius, you are right we are no longer in the '60s, nevertheless there may still be a Fellini hidden among us somewhere.
Alessandro Michele, I regard as a genius, I mean he was able to completely re-launch a brand.
Gucci cannot be described as simple to wear, its recognizable, very strange but nevertheless bewilderingly stunning.
I would not put it side to side, to for example, Armani, where if I buy a jacket and am not a model, I will have no trouble wearing it.
Surely, like Sorrentino and Garrone, there have been distinguishable directors in recent years.
We have a significant legacy, of our striking neorealism of epilogues and disciples.
In 2010, I was at the Cannes Film Festival with the film "La Nostra Vita", which had also won the Palme d'Or for "Best Male Performance" and is an undeniably realistic film.
I have noticed recently, directors, especially younger ones drawing from a cinema genre that in the 70s was very familiar to us, when there was a revaluation of Sorrentino and many other films of crime genre.
In attempt of doing something special and different, many move towards an almost comic feel.
We can say, that I grew up in the crisis of the Left and Italian cinema.
Yet I love Italian cinema, I have found so many Italian films marvelous, but then again maybe we do not really love each other.
Sometimes I like to play a little game, where I will watch a small film and think to myself that if it came from an Eastern or French country, it would without a doubt be more appreciated.
As an Italian, I always feel some sort of mistrust. I believe that cinema reflects our society and precisely for this reason, we should find more trust in ourselves as a people.

ALBERTA FERRETTI

ITALIANS BOOMERANG EFFECT
If I were only to highlight negative things, that would make me a defeatist.
It would be enough to highlight the positive things, our potentialities. As when you take a group of people, a thousand problems always arise, but we must always try to highlight the positive things to strive and rebuild as a whole.
Notice for example, the Italians who leave Italy, as hungry here, then maybe due to an invention of their making they become billionaires.
From a cinematic perspective, look at Mastroianni.
He worked abroad, and even lacking fluency in English, his work created a divism for Italian actors, being recognized abroad.
Slightly like Sophia Loren, who has remained an icon of style and elegance.
Italian fashion has always been a school for the world. It can even be considered a language, one we speak with fluency and efficiently. Similar to music, it is borderline universal. Cinema on the other hand, needs a translator, it cannot be so simply copied or imitated. Every country has its irony, what makes us laugh here, may not even spark a chuckle from the French.
THE CITY IS IN REBIRTH
Despite a period of economic crisis, Fashion and Design have bloomed persistently in recent years, especially in Milan.
When I had the pleasure of staying in Milan for 3 months, I found it beauteous! I really enjoyed myself! It is such a lively city, full of things to do at all times.
The fashion, the Salone del Mobile and above all Expo have brought a cosmopolitan nature to Milan, and pride to the Milanese.
Rightfully so, as they are citizens of a gem of a city.
But I share that sentiment regarding Italy as a whole!
Through drama, I have gotten to know Italy really well, even its smaller villages.
They all vary significantly, but share such beauty, a culture of beauty, aesthetics and exquisite food.
We live in a country that has everything.
We may be a small country, but one with an abundance of variety.
The reflection of this is clear in Italian cinema.
A Sicilian director differs from one from Abruzzo, similar only in how we commonly find ourselves starting things already discouraged.
While I lived abroad, I realized that in Italy fantastic ideas do arise, but more often than not we dismay these immediately, even before allowing these to begin.
Abroad, however, I found, that when you have a fantastic idea, the next day you try to achieve it.
I believe we lack this attitude, perhaps due to the challenge behind doing everything.
ICARIUS WEARS GUCCI AND ISABELLA IN STELLA McCARTNEY

THE WOMAN AND THE EXTINCTION OF THE 10 YEAR PLAN
How do you find the position of women as a gender in your field of work?
In film, it is easier to hire them under the table. Contractless and clearly underpaid. Paradoxically, I have seen women many times work harder as they are the most defenseless.
They are also easier to hire and then dismiss in an unproblematic way.
Cynically, women are commonly asked why have four children. She may want four children, a large family, but at the same time if she returns home at eleven in the evening and then leaves at four in the morning again, she can hardly relish it.
In Italy, even during the war, there were many children and the spirit was to help each other, at least more, there was so a greater level of solidarity in society back then. Today even the working world stands in the way of creating and living a family-oriented life with or without a stable job. This is the reason behind the extinction of ten year plans. It is no longer common anymore to programme 10 years in advance, having a child though, makes you inevitably think of the future and create your 10 year plan, however without this the regard towards the future differs completely.
Even so parents are not those who bare children, but those who raise them.
I received a review that swept me of my feet:
"Leave the theatre in disbelief that Isabella is acting"
I often watch children while they play.
They can be firemen, they can do every job in the world.
They can invent things, and you may not know the origin of the knowledge to do this comes from, but they do.
To think, that in that moment you are that person, that character, that's when you can be more convincing to the public.
My work, I believe, is directly correlated to memory. The unconscious memory, like when you smell a perfume, listen to a song, and your mind is flooded by memories of childhood times.
If I receive a role of a defeated character, I try to remember a time where I felt defeated in the past to be able to find this same sentiment on set.
For example, regarding some characters in "Sun, Heart, Love", and Eva, in the film, they seem to have known each other for years, with some maybe but others not.
In drama, you have the ability to cancel yourself when you portray a character.

FENDI

ISABELLA AND THE ACTRESS
There are many actors who also work on scripts, but I could never do it.
I do not want to define my life by rules. Precisely because without these schemes, I can allow myself to be myself fully, to give my best and create the scenes I have imagined for my life.
Precisely because without those schemes, I can allow myself to be myself fully, to give my best, while creating scenes that I might have imagined in a completely different way come to life in a whole new unexpected way almost on their own.
I am often asked what it takes to be an actress, I believe there is so much more relying on character, in addition to talent.
For instance I do not always enjoy always staying home.
You can have the most talent, but if you do not like having to live in the same place for a few months sometimes, to for example shoot a movie, or constantly jump from city to city if you are on tour, this might not be the job for you.
THE DIALECTICS OF AN INTELLECTUAL
I have never worked on movies of the science fiction genre, reason being there are not very easy in Italian cinema.
I have, however, done vintage films instead.
To me its a knee-slapper when someone says that during the periods when these movies were set, people did not speak like how it is portrayed.
Nobody can say that. Either you lived it or you can not say it.
We are inventing a world that will never be that.
My first film was "Nuovomondo" by Emanuele Crialese, and it was set in the beginning of the 20th century in Sicily.
The only indication given to me by Emanuele was that even the contribution between the parents and the children was very detached and the tone was never very informal.
Antonio Grimaldi

ESSENCE OF YOU
I could never give you a precise answer.
When people ask questions like, describe yourself in 3 adjectives. It is very difficult for me, because every day we have the ability to change.
Perhaps this is a fortune.
I am very jealous of my private life.
Actors, we see them cry, see them make love.
I love my work because it is constantly evolving.
You may call me as does Daniele Vicari, as a proletarian with four children or call me Fabio Volo to do the "punkabbestia"
There are other jobs, however, like in television, where instead you have to be yourself more.
Perhaps for this reason too, I believe it is right to protect one's own intimate and personal sphere.
Perhaps in the world of social media, the thing to safeguard in our life is precisely our sphere, the one that makes us and our affections.
If everyone went up on stage, there would be no one left in the audience to watch.
For instance, when you and I shot together, even if we did not know each other objectively, I still remember your hug. Your hug felt almost paternal, I felt almost as if accepted by you. A hug is something you feel, if two people get stuck or want to get away instead immediately because you feel embarrassed.
I find it slightly boring when you put the photos and see from the comments or "top" or "beautiful photo" or even just insults.


ISABELLA RAGONESE, Actress and theatrical author.
In 2000 she obtained her acting diploma at the Teatès School (director Michele Perriera). She wrote, directed and performed several of his works, such as Che male vi fo and Bestino, resulting in her win for competitions for emerging artists; among others, in 1998 the first prize of the national competition INDA (Istituto Nazionale Dramma Antico). She made her cinematic debut with Nuovomondo di Emanuele Crialese. It was then that the protagonist of the film by Paolo Virzì Tutta la vita davanti, proved herself worthy of nomination for the Nastro d'Argento as best actress.
In 2008, at the "Theater and Hills" Festival, she performed with great success an interpretation of her own authorship, entitled Mamùr. She then recited in Viola di mare by Donatella Maiorca, Two lives by chance by Alessandro Aronadio, Oggi sposi by Luca Lucini, Ten winters by Valerio Mieli and Another world by Silvio Muccino. In 2010, with the film La Nostra Vita by Daniele Luchetti she won the Nastro d'Argento for best supporting actress. In the same year she acted for the first time in a television production, working in one of the films of Il commissario Montalbano, she was also godmother to the 67th Venice International Film Festival, where she presented the film Il primo incarico, directed by Giorgia Cecere, of which she is the protagonist. In 2011 she was in theatres with the "Lady Gray" monologue by Will Eno. She is still the protagonist of Fabio Volo's film The extra day and in 2012 she was awarded the "Shooting Star" award for the best European talent of the year at the Berlin Film Festival. Also in 2012, from January to May, she performed in the theater in the comedy of Orlando directed by Emanuela Giordano, freely based on the novel Orlando by Virginia Woolf. In May 2013 she was in theatres at the Piccolo Eliseo with the show Taking care of baby by Dennis Kelly, directed by Fabrizio Arcuri. Also in 2013, she directed The Chair of Happiness directed by Carlo Mazzacurati, A Wrong Story by Gianluca Tavarelli and The Young Fabulous by Mario Martone, presented in competition at the 71st Venice Film Festival. 2014 sees her as protagonist of the African Requiem play by Stefano Massini dedicated to the journalist Ilaria Alpi and is also on tour with the Italian show Numbers, reading concert with Cristina Donà, experimental singer-songwriter. In the last months of 2014 she was working on the Rai fiction set A new world directed by Alberto Negrin and the new film by Giorgia Cecere A beautiful place.
In 2015 she shot the film "We Must Speak" directed by Sergio Rubini, the film by Daniele Vicari "Sole cuore amore" (successfully presented at the Rome Film Festival and for which she was nominated for "silver tapes" and for the "David di Donatello" as best-known actress), the film by Fabio Mollo "The father of Italy" (for which she won the Golden Globe for best actress) the film by Edoardo Falcone "Questione di Karma" and Nello, that same year she also worked on the set of the Rai TV series "Rocco Schiavone" directed by Michele Soavi (of which the second season will be aired in April).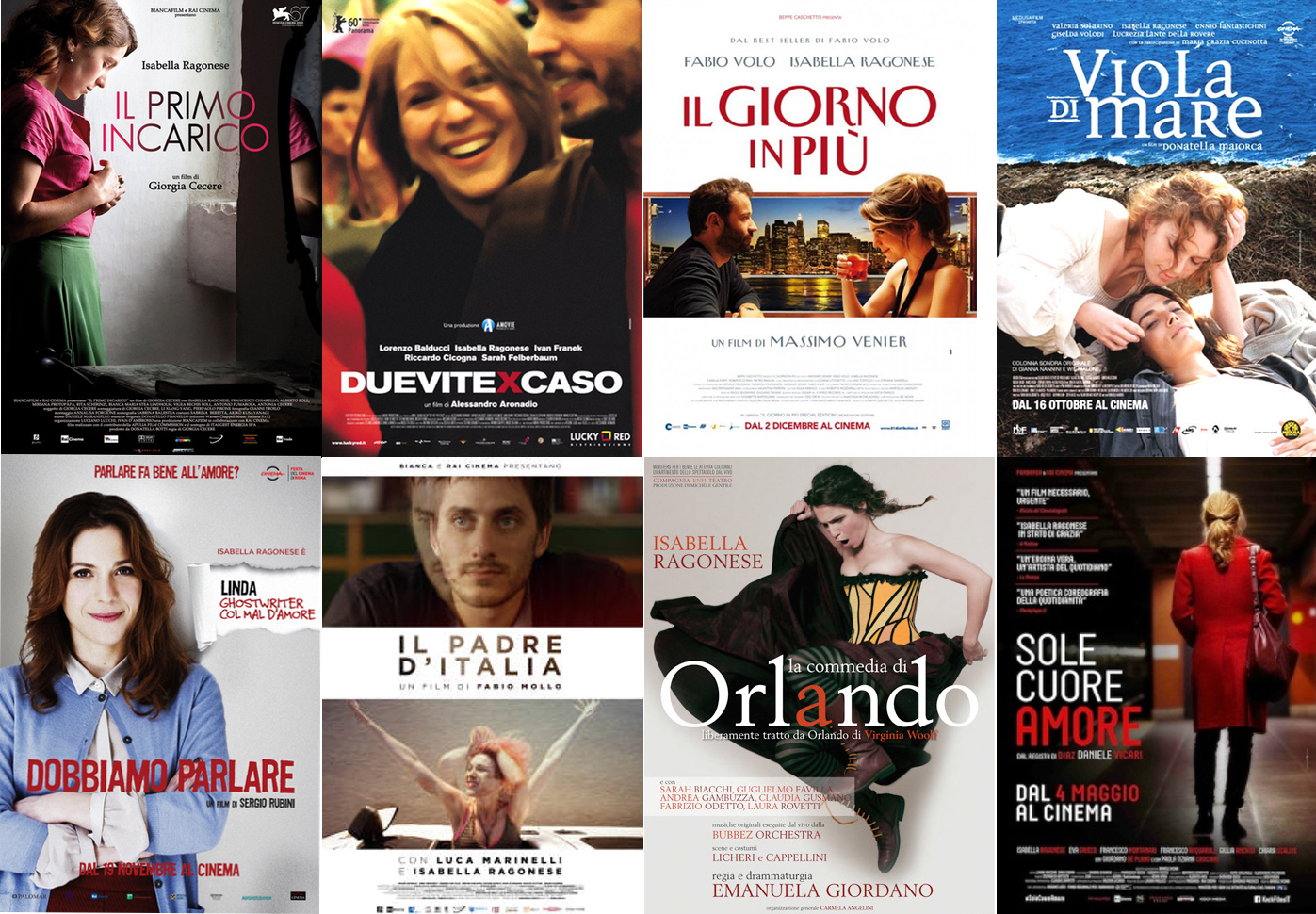 Talent | Isabella Ragonese | Roberto Bisesti Comunicazione (Rome)
Make up Artist | Barbara Ciccognani YSL Touch Eclat | MH Artist
Hair Stylist | Gianluca Guiatoli | WM Management Agency
Coordinator | Andrea Bassi
Style Assistant | Leonor Proença de Carvalho
Art Retouch | Carlos Mesquita | Influxus
Studio | Erreci Studios Milano
Special Thanks to Roberto Bisesti