Photographer | Francesco Andriolo
Art Director | Emilio Tini
Interview | Icarius De Menezes
Text | Tom Salina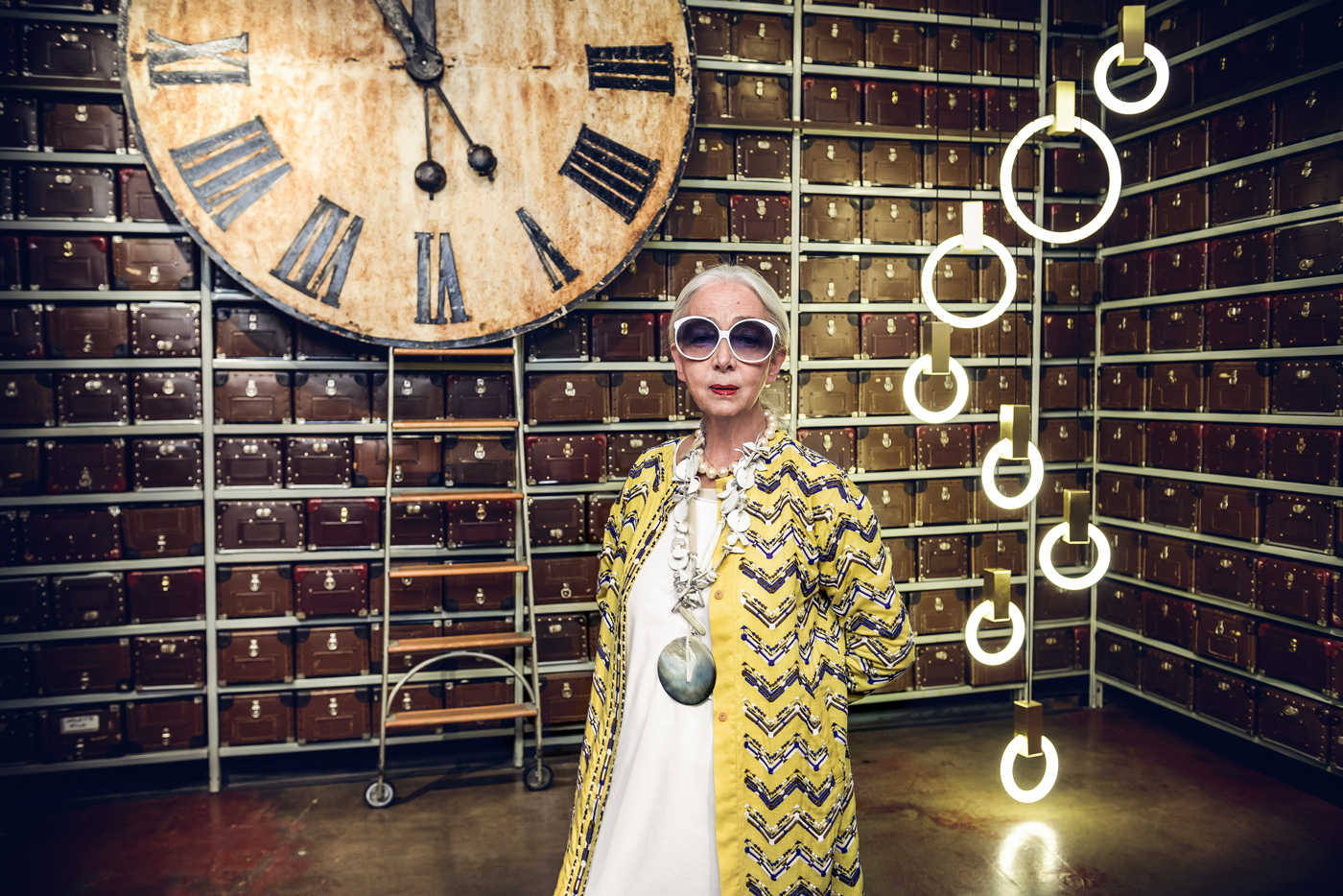 WHO ARE YOU TODAY, AFTER THE ROAD YOU'VE TRAVELLED?
Rossana Orlandi.

WHAT BEST DEFINES YOU AND YOUR WORK?
I think the best definition is that after opening the Gallery 15 years ago, I have always felt the same. This means that my enthusiasm has never disappeared. In fact, I'm more and more in love with my work. In my path I've had great satisfactions. Some choices have been right.
Some designers that I picked up when they were still taking their first steps, they have become important and requested all over the world. In all this, I've always maintained the same spirit of enthusiasm, freshness, simplicity and sincerity.

IT'S AS IF YOU WERE BORN INTO THIS WORLD.
Well, I started working very young, at 18. Despite the great difficulties for a girl to enter the professional world at those times, I started in Fashion. Everything I do in life, I've always done it with great enthusiasm. The more difficult things are, the more the challenges, the more it fascinates me.
I started in knitwear, working with cars and comparing myself with some characters that have impacted the history of Fashion. In knitwear, I worked a lot with Miss Deanna, who was, I think the most famous knitter in the world. A slight, little woman, all pepper, who has made collections for some of the greatest designers in the world. She worked a lot in the Reggio Emilia area. They were amazing years. They were the years when the 'pret a porter' was born.
I still remember the Kenzo shows! They were crazy and it was so revolutionary! They were years of great emotion, enthusiasm, and great energy.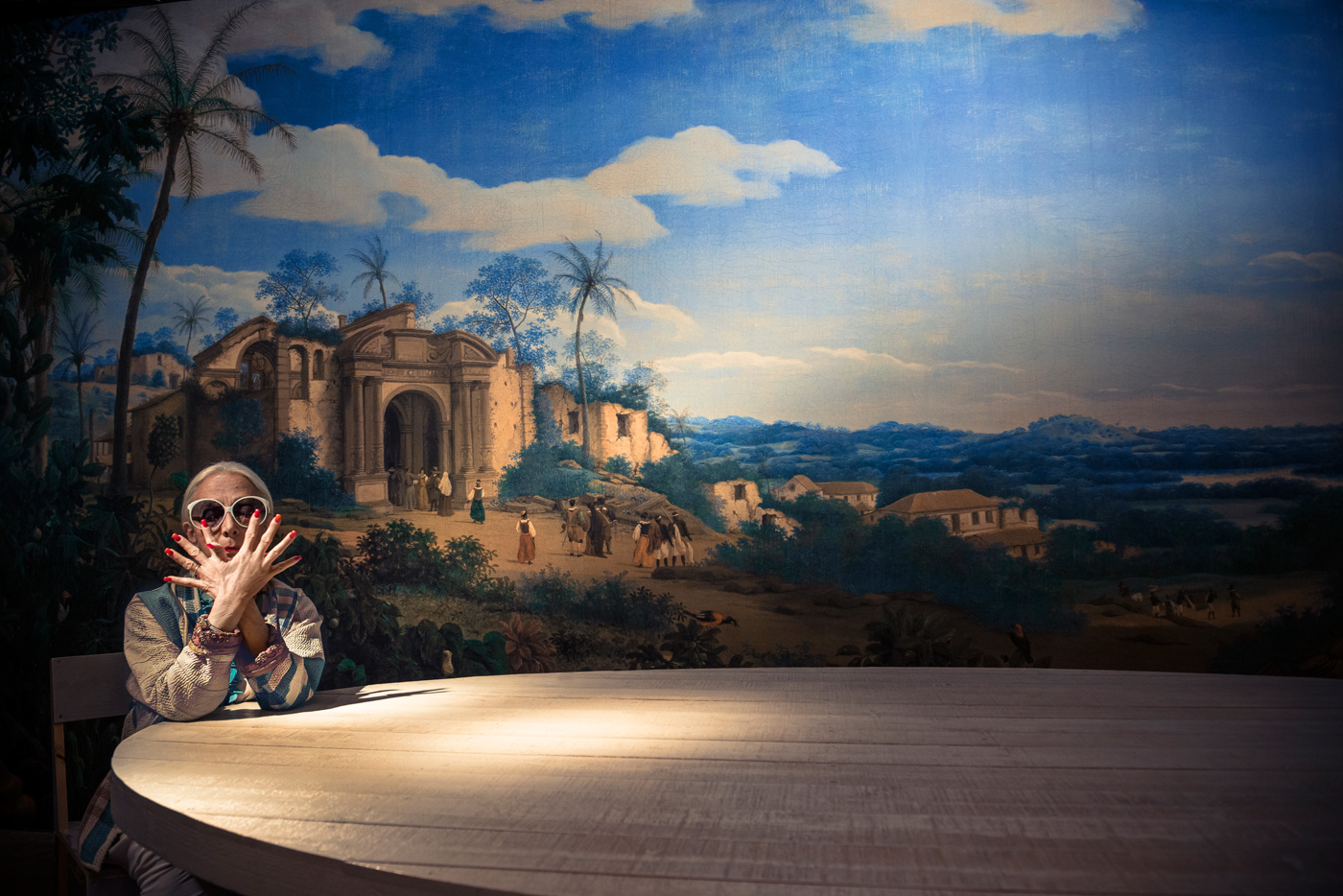 HOW DID YOU START TO WORK WITH KNITWEAR?
We were producers of family yarns. Let's say I started in the family, but very marginally because I wanted to experience a world outside the home. I still remember the first show I did at Pitti, which was crazy. The clothes were made by this company in Florence that produced furniture fabrics. They were so Heavy! That year the chiffon broke out, so completely against the trend compared to my collection. It was the most terrifying experience of my life. The catwalk lasted only 5 or 6 minutes, but for me it was an eternity. I told myself: I am never doing another show. I started from knitwear then I went to spinning. I attended all the fashion shows as a producer. They were really exciting years.
TELL ME ABOUT THE FIRST DAYS OF BUSINESS.
When I found this space, there was a boutique inside. So the first years I kept the boutique, where there were garments produced by me for sale. The shop was called Rossana Orlandi and it was interesting, because I bought several collections. Between clothes and design, everything was born in parallel, between fashion and design. The first few years I did not know how to behave in the world of design. It was a dive into the unknown. When I decided to finally close the boutique, the biggest disappointment was that I could not buy collections from Antonio Marras anymore! I loved them madly. It was the beginning for him too.
The funny thing was one day when I went to see Lamia's first fashion show by Antonio Marras. Looking in the audience, I noticed a Lady, not so tall, dressed divinely and so I approached her. I asked her where she dressed because she really had super taste and if
she might give me the pleasure of shopping with me. It was Lella Costa.
HOW DID YOU FIND THIS SPACE, FOR GALLERIA ROSSANA ORLANDI?
We were looking for a house for my daughter, Nicoletta, But unfortunately we couldn't find anything. It was really, very difficult. We could not find anything. At the time there were not all these wonderful, new buildings. One of Nicoletta's friend had taken us up on the second floor of a building next to here. Then, I looked in front of me, and I saw this huge space and it seemed like a dream! The garden was a lawn of leaves, and the entrance was a parking lot full of cars. The following day the agency took me to see this building. I immediately fell in love. I said, "This is my home." Initially the agency did not want to sell it, but they soon understood it was just what I wanted, so after a month I had already bought it.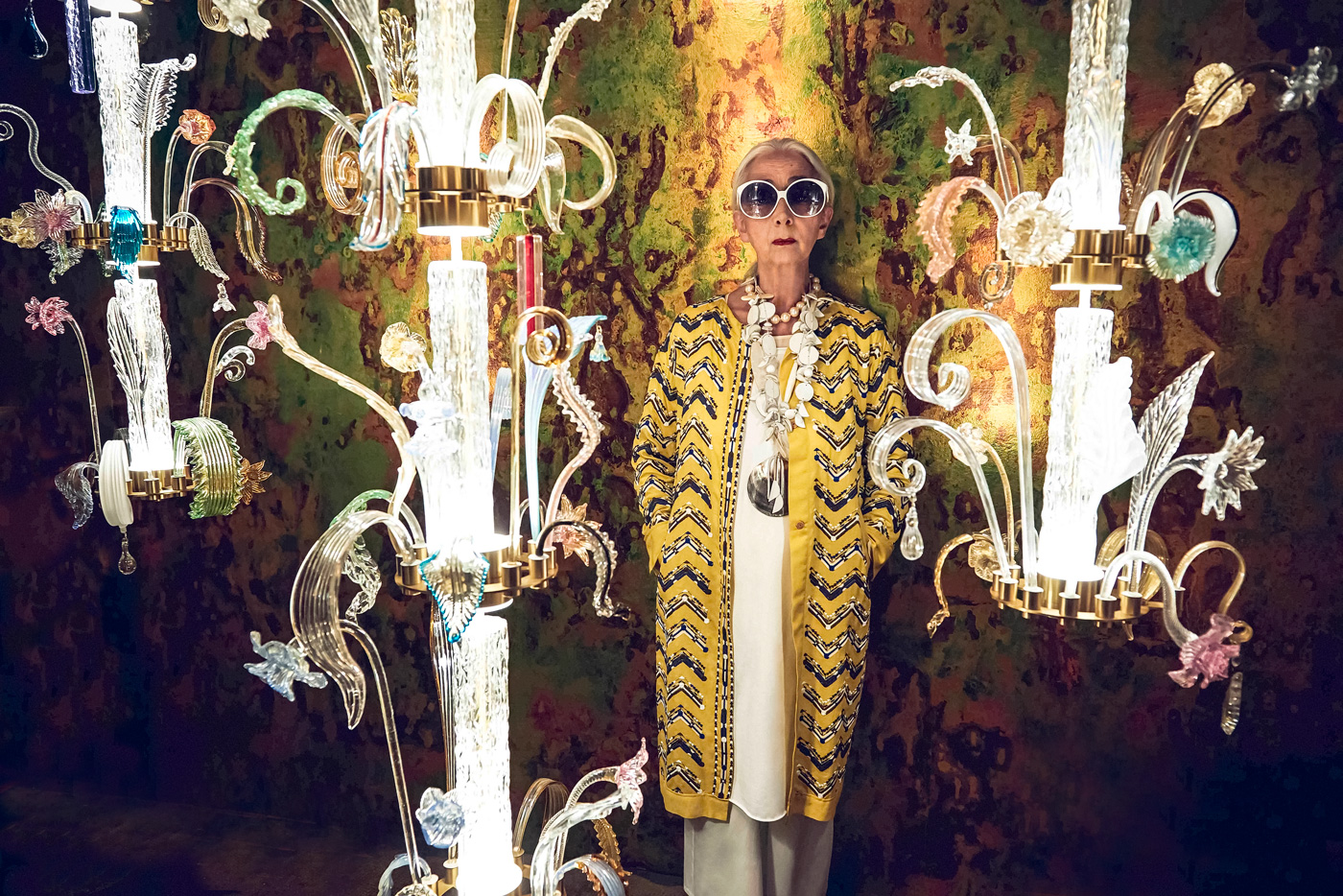 WHEN WAS THE GALLERY BORN?
The building was a company that manufactured ties, and it was closing. Initially I did not know how to organize the space inside, because the initial idea was to transform the building into my house! My son who was greatly opposed to that!
WHO WERE THE FIRST DESIGNERS YOU BROUGHT INSIDE HERE?
The very first project was a lamp by Sebastian Wrong, which was then taken and produced by Flos. It became one of the famous, best sellers by Flos. The prototype was wonderful, made with these sheets that seemed like a spaceship, with proportions different from those that went into production.
At the time Piero Busnelli was still around, a man of great generosity, he inspired me very much. Love for design was a big contribution. I worked in fashion. I worked the yarns and made the color cards. So I had to always try to foresee everything at least a year in advance with respect to the collection. You had to know a little bit about everything. What happened politically in the world, what happened in the streets, what were the cultural and musical evolutions and currents and also the design that represented the era.
HOW WAS THE SPACE AT THE BEGINNING?
It was not minimalist, it was all furnished. It was a 'company' with the showroom downstairs.
After Sebastian Wrong's lamp, we also had several company photos. One with Elisa Ossino! It was shocking. I had absolutely no idea that I was going to do a photo shoot! I can remember the trucks arriving— crates, lights, 4000 people. It all weighed so much that they were going crazy.
They found a lot of objects to feature for photo shoots. A person would never imagine what goes into making a glass or a cup. Production processes are not always valued as they should be. Then there were other photographic services and other madman who started taking pictures of the tables. Hence an exhibition called "Tabula Rara" was born. I argued that people live and work more at the table. There are more exchanges of opinions and sharing there. These exhibitions began to have crazy success. The first was made just by my group of friends. There were characters including Lucio Del Pezzo and Estee Lauder who made a crazy table, all done with cosmetics! The second was done with furniture magazines. It was magical. At the end in the evening we had all become friends. We had so much fun and that night we were very sad when it finally finished. Each person presented a table. Then we did it with schools all over Europe.
Finally, the project ended with the tables produced by the artists. In the room where we are, in fact, it's all black because it has here that we presented Tom Dixon. Even Antonio Marras, made a table for the exhibition that he did then at the Triennale.
WHAT WAS IT LIKE WORKING WITH THEM?
I must say that it was an amazing collaboration between me and those other people. I love working with people like this, especially young people. I find that being with young people is like giving water to flowers.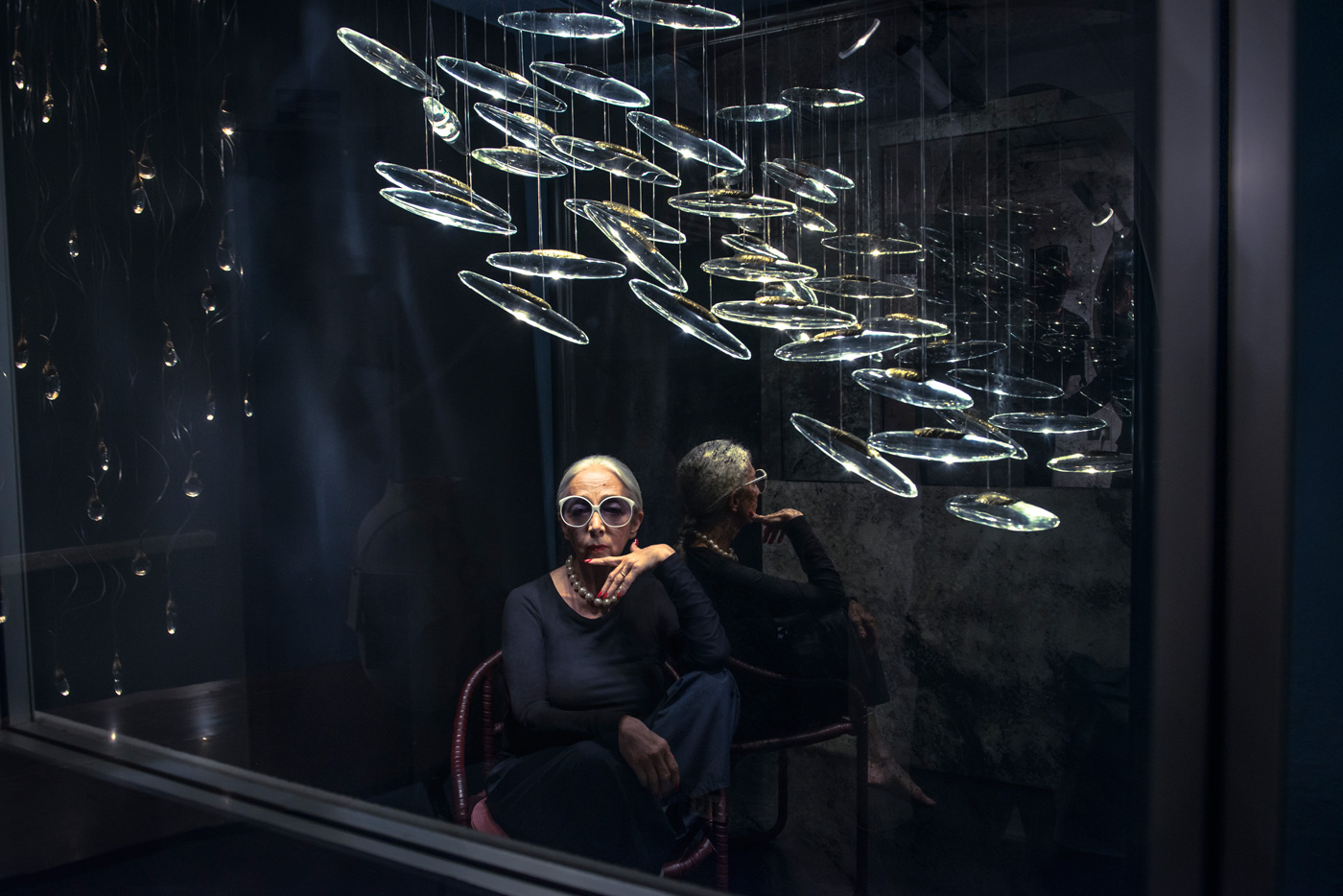 WHAT WAS MILAN LIKE AT THE OPENING OF YOUR GALLERY?
Milan, when I first opened this space, was not nice. It was a hard area. So, one day I started printing invitations on passports!
ARE YOU SELF-TAUGHT?
Yes. I lived as a girl and grew up through the best of Italian design. Just imagine, the brewery in Corso Europa was all made by Castiglioni!
HOW DO YOU SEE THE MASSIFICATION AND GLOBALIZATION IN THE LAST YEARS?
It's a bit like fashion. Once, if you were not dressed in fashion, you were out of fashion. The long skirts always drove me crazy. I also wore hot pants, though I do not think I have nice legs. Today, however, you can dress, as you want, just be harmonious. It's the same in design. You can buy beautiful, low-priced design products from Ikea, Leroy Merlin, Zara Home.
For example, I love Ikea! I was also in the parent company. It's a crazy place, even if I do not like when they copy existing products. I do not share it, because they have very high creativity potential. But at the same time, I adore them and admire them when they can conceive a Tom Dixon product at democratic prices and for everyone.
WHAT IS THE MOST EXPENSIVE ITEM YOU'VE SOLD?
It was a tapestry by Ella Natsumi at an exhibition that was organized by my daughter, Nicoletta. It seemed crazy because I had no products in the gallery over 5,000 euros. Today that tapestry is estimated at 950,000 euros! Definitely that dearest item I've sold.
TELL ME ABOUT YOUR SISTER.
I'm very angry with her.
She is 11 years older than me and even last night, some people asked me who was the older sister!
Joking aside, she is the queen of fashion. With her, I went to all the fashion shows. Balenciaga, Dior… She became a widow and continued the work done by her husband. Thanks to her, I had the meeting with Coco Chanel, whom I will never forget. I told myself when I met her, "She looks like a monkey, with the dyed black hair," but I really think she embodies charm. I have goose bumps now just thinking of that meeting.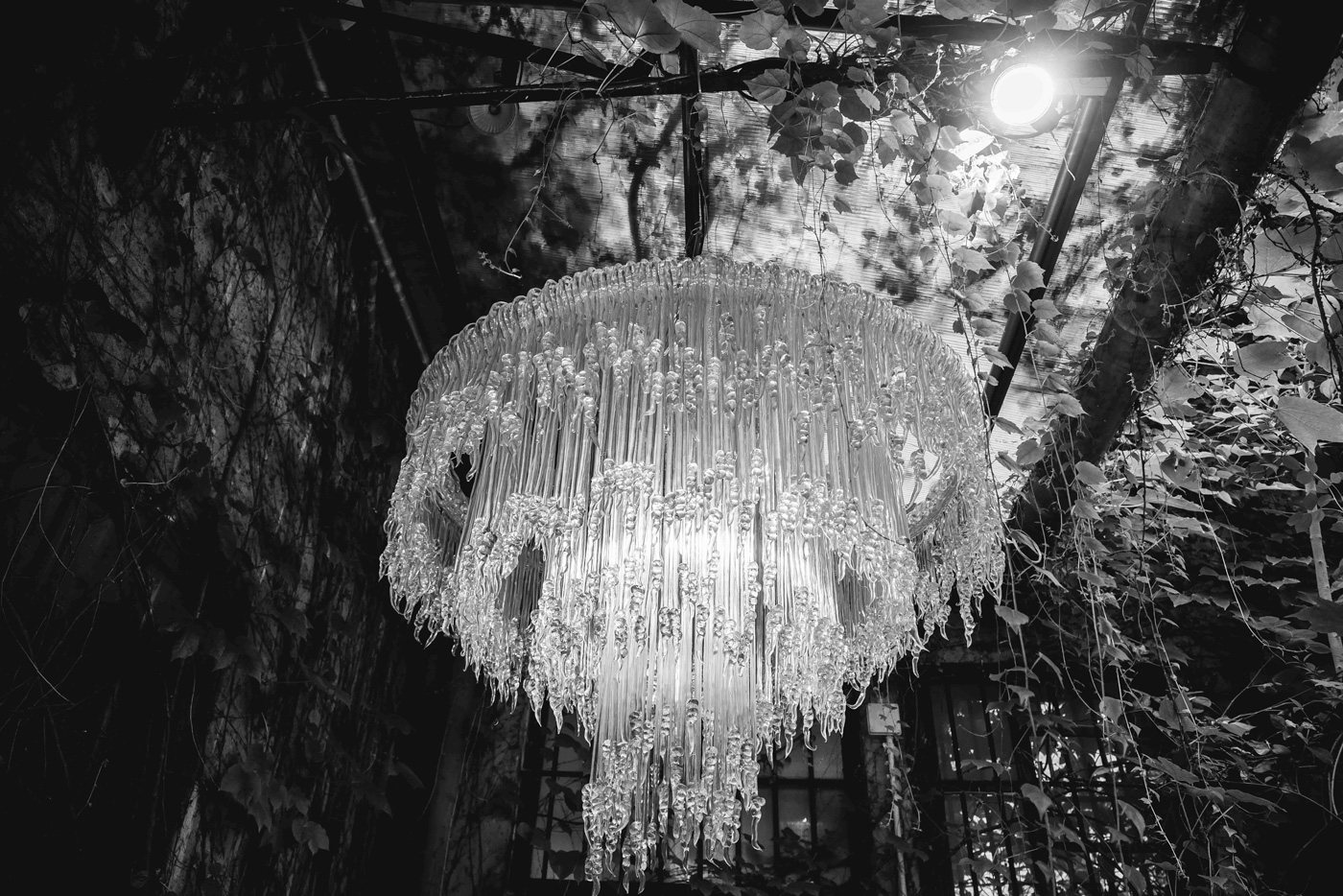 ARE YOU A FEMINIST?
I do not like the term feminism. I think that women are formidable. The woman is formidable. She gives birth and must always take care of a thousand things. Although, to be honest, I prefer to work with men.
HOW DO YOU CHOOSE THE ARTISTS INSIDE YOUR GALLERY?
First of all, I look at the works that I like, from the things they send me and the things that interest me. Sometimes things come to me that do not fit my taste. I don't care for trends. I don't follow them. I think that if an object is beautiful then it's beautiful. Because I like it, because it excites me. I get excited because it's beautiful.
HOW DO YOU CHOOSE THE WORKS WITH THE DESIGNERS?
I like what I like, if I like everything, I take everything. When I opened my space, from all over the world they asked me to organize meetings to understand my ideas, my strategy. I've never liked to do meetings like that, because I'm just the way I am and you cannot explain it.
DO YOU FOLLOW ANY SYSTEMS IN YOUR CHOICE OF DESIGNERS?
I do not follow any scheme; I work in perfect freedom. I don't love studying the history of design. Rather, I go directly by instinct. I like to focus on young people, I do not work with vintage things. Though, maybe with the dead, there would be fewer problems, but I always count on the young!
ARE THERE CERTAIN DESIGNERS THAT CONTINUE TO STAY IN YOUR SPACE?
Yes, they call me "Mom". For example, Piet Hein Eek is like a beloved son, and he calls me "Mom". I saw a table of his in Stockholm. I touched it and fell madly in love. I left Stockholm and came back with that table, even though it was madness because I had to pay twice as much instead of taking it directly from Piet. I like traveling and going to their studies, to see how they work. To perceive what I otherwise might not perceive, to understand their thoughts, their ideas.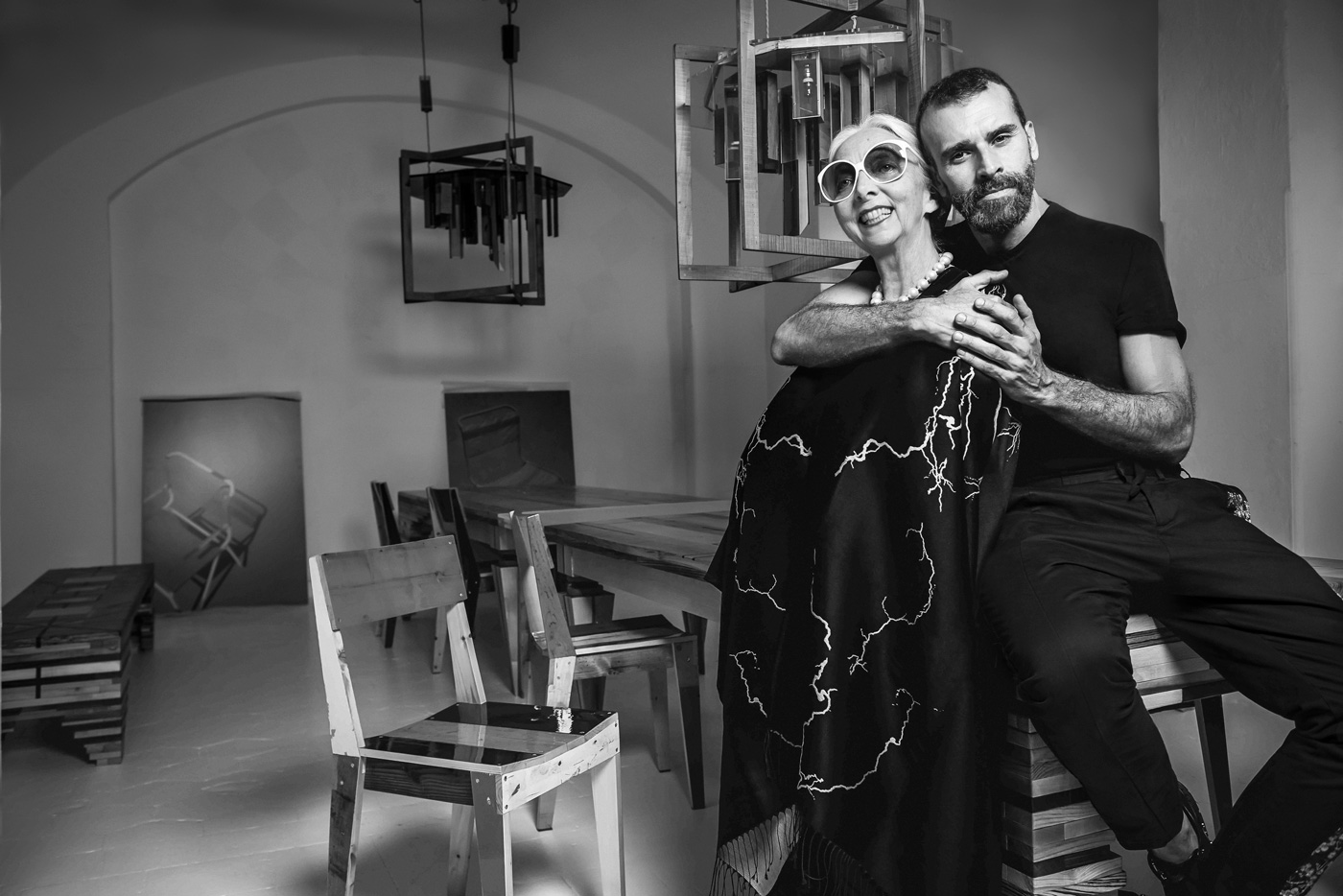 DO YOU READ THE DOCUMENTS ON THE DESIGNERS BEFORE YOU SEE THEIR WORKS?
I always like to read about them after seeing the works. I like to see them without knowing their history. I prefer to inform myself later but I love not knowing anything, so I am free when I see them for the first time. Only when I go to dinner, then I prefer to know who is there…
WHEN WAS THE CHARACTER OF ROSSANA ORLANDI BORN?
I've always been like this. I do not think I can answer you, because there was not a precise moment when I turned into Rossana Orlandi. I had black hair and my best feature was my eyes. I do not have black hair anymore. I got tired of dyeing it, and for the eyes, I became almost blind! The hair, I stopped dying it because I had to go to the hairdresser every 15 days and I hate going to the hairdresser. When I was young, I had small glasses. However, I have very fast-moving eyes, so Fortunately, I was lucky to find these that are vintage and they are big. So I tried these and found them wonderful!
I have no perception of my age. I do not give a damn about my wrinkles and falling eyes.
TELL ME ABOUT MARRAS
I love Marras.
Antonio is an extraordinary person. I call him my poet. From an artistic point of view his work is simply a marvel; it is all feeling. His life is simple, very interior, very spiritual.
I remember one of the first fashion shows, where everything was a triumph. He was worried because he could not find his baby. He did not care about anything else. He was interested in his child. He is all family. I was also at his home. In his workshop, you see that he is an artist.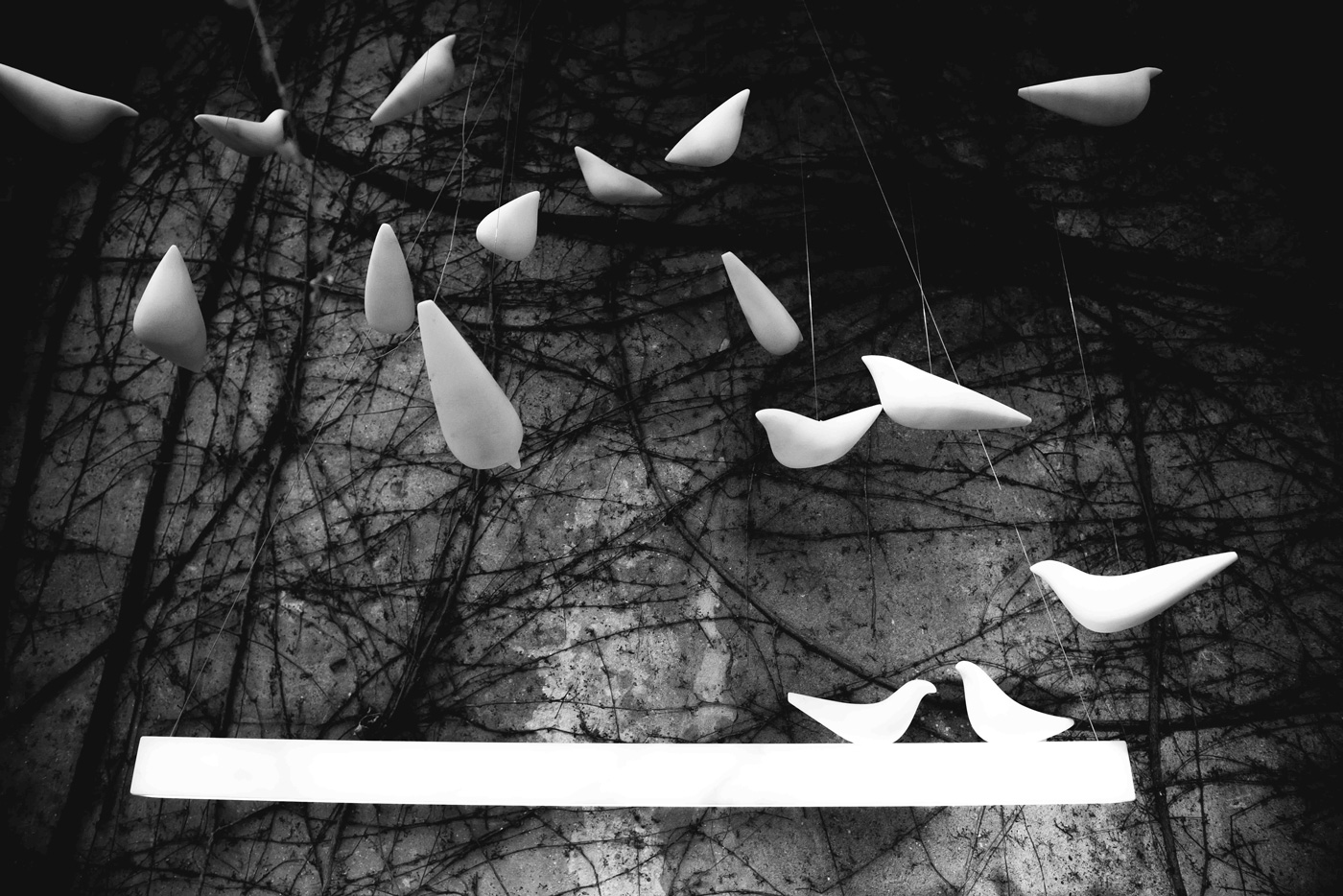 YOU HAVE ALSO WORKED WITH KARL LAGERFELD, TELL ME ABOUT HIM.
I worked with Karl Lagerfeld when he worked with Chloè. He's a great person, with unmistakable class. Karl involves everyone. Even to the passing girl. He'll ask her, "What do you think?"
WHO ELSE HAVE YOU HAD THE PLEASURE OF KNOWING?
I met Issey Miyake. What a character! I met Issey, because he came to me while I was doing the whole thing with collections of stitches and yarns. Then everyone came to me with test bags.
FRANCA SOZZANI?
Yes, she was a dear friend of mine, we've had wonderful times together. I have a lot of photos with her and Carla. She was an incredible character.
YOU SEEM VERY INTUITIVE. DO YOU FOLLOW ANY RELIGION OR SPIRITUALITY SPECIFCALLY?
I am intuitive, but I always act instinctively, I am a Catholic observer. I am a ram and I am very instinctive. Rams are not reflective. When I think of instinct, I must admit— I'm never wrong.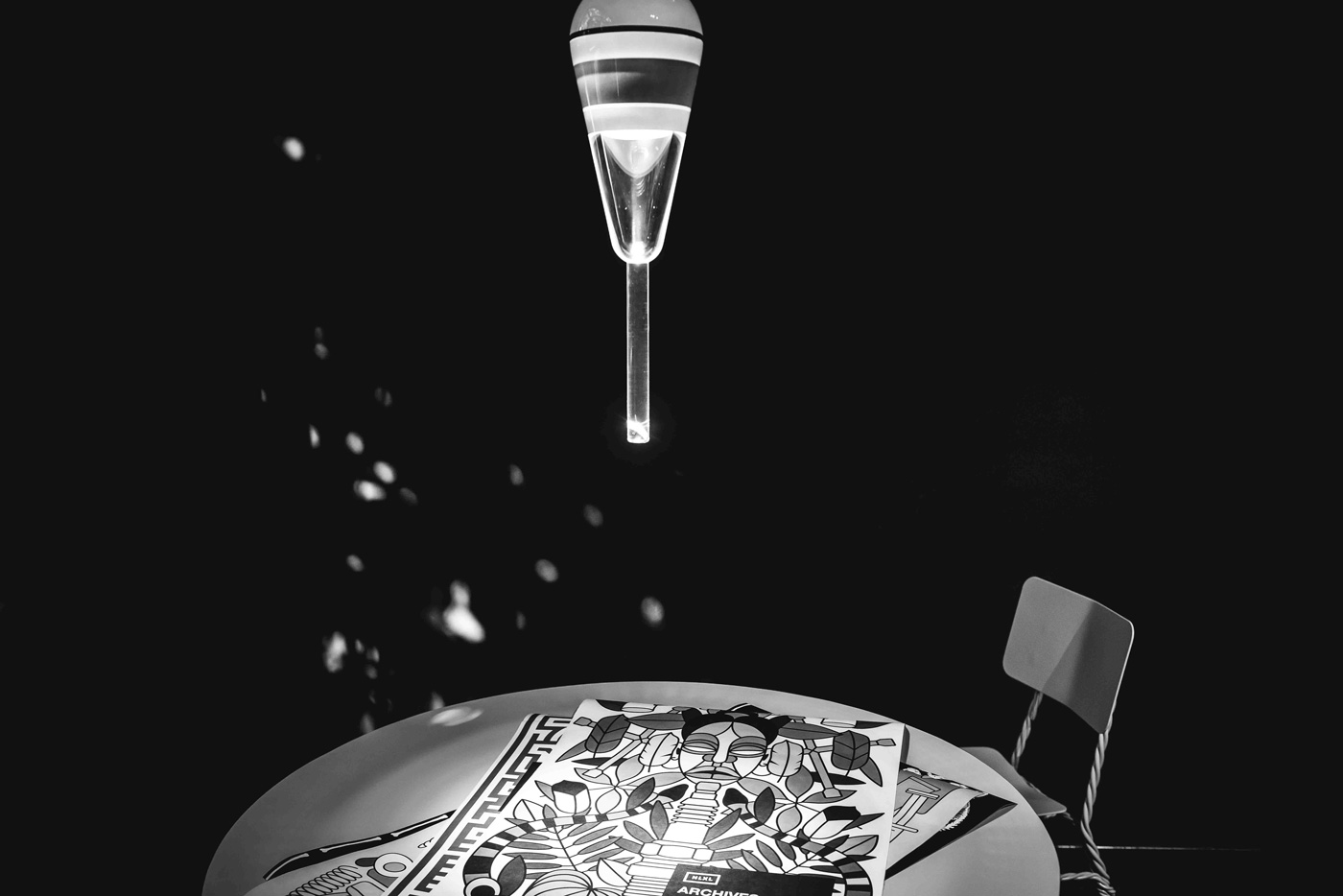 Special Thanks | Nicoletta Brugnoni