Text | Tom Salina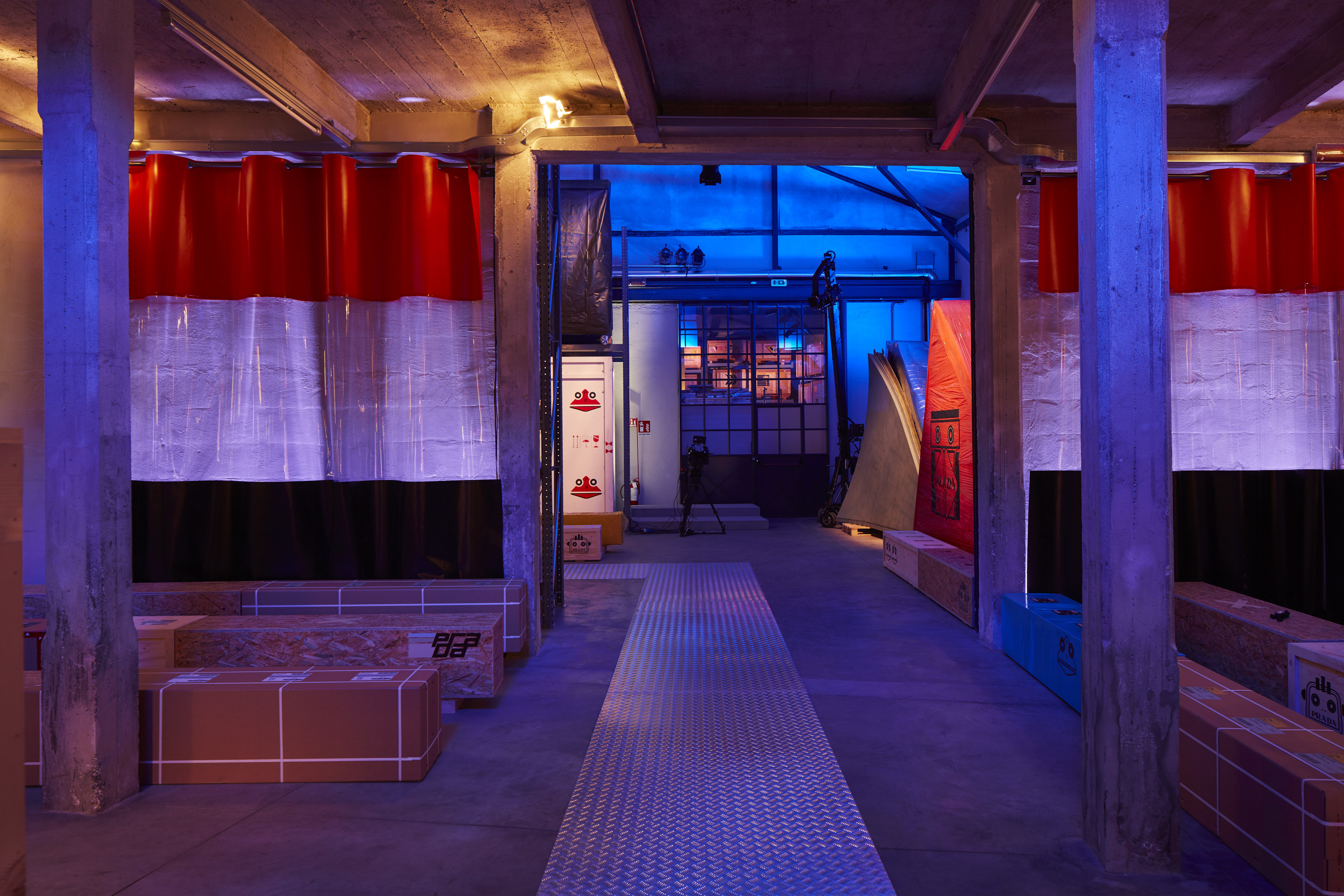 In her most recent Fall/Winter 2018-19 menswear collection, Miuccia Prada seamlessly expresses the brand's history, evolving personality, and the unique character of this new collection. By discovering and transforming a (sur)real space from within the body of the brand itself, she provides a glimpse into the halls of the Prada subconscious.
From one of Prada's very real warehouses comes this season's offering. The space is reminiscent of a 'found space theatre', Andy Warhol's Factory, or even Willy Wonka's Chocolate Factory. It is otherworldly yet familiar. A warehouse is the last place associated with luxury fashion, yet here it offers a unique backdoor through which to view the idealized inner-workings of this iconic brand.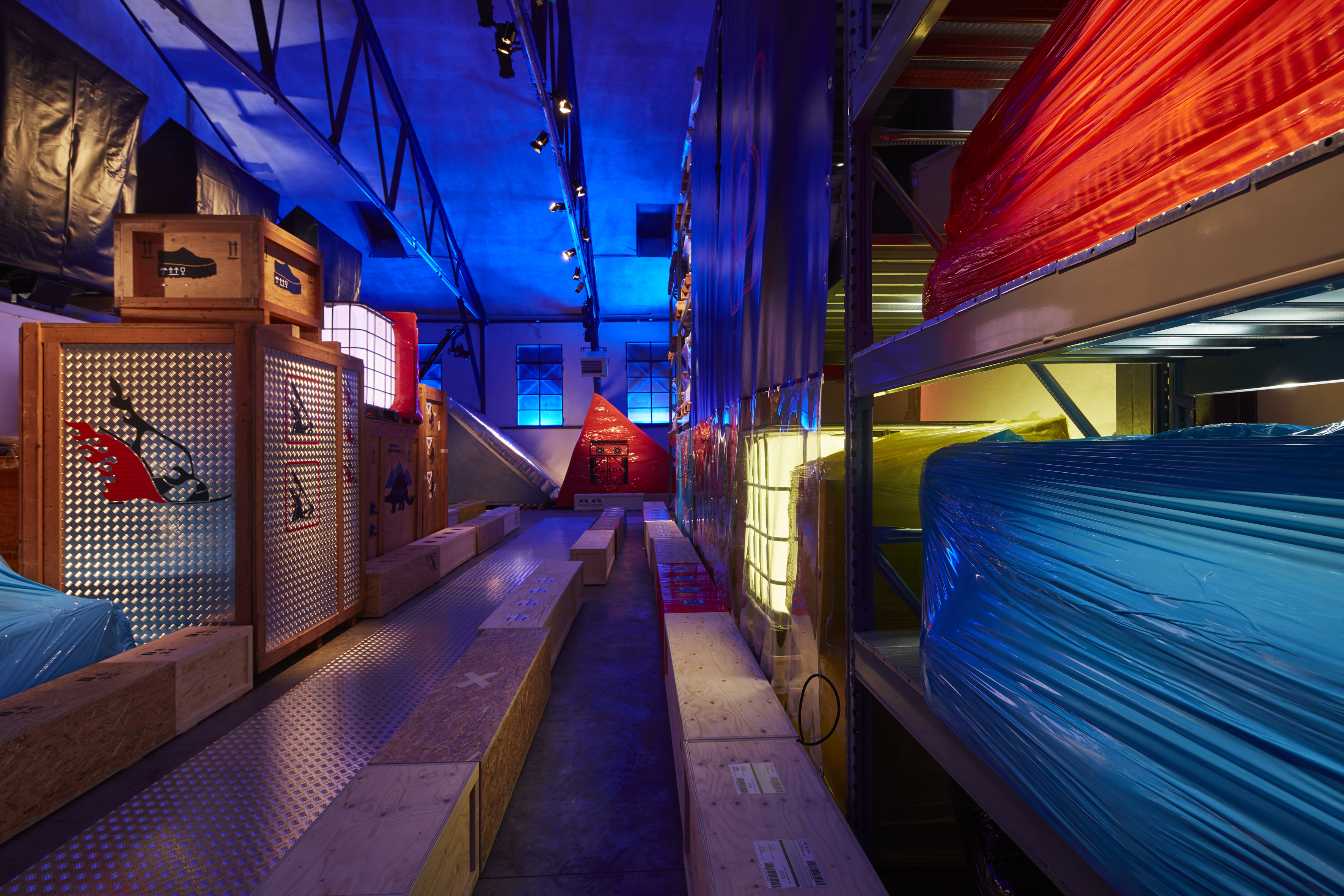 This show not only exemplifies one of this season's novel locations (see MSGM's University setting), but also contributes to a cohesive presentation of Prada, past and present. This space is a physical representation for the brand's now characteristic blend of playful iconography, technology, and utility.
The low lights of the pre-show wash over a variety of Prada symbols, simple graphics that seem somewhere between app icons and stencil graffiti. Items of Prada memory plucked from past prints adorn the space; mementos modernized or made to fit this industrial context. The flame sandal coexists with a real fire extinguisher, dinosaurs and monkeys mingle with stenciled labels of FRAGILE or OPEN THIS SIDE and the fanciful seem to play freely among the functional.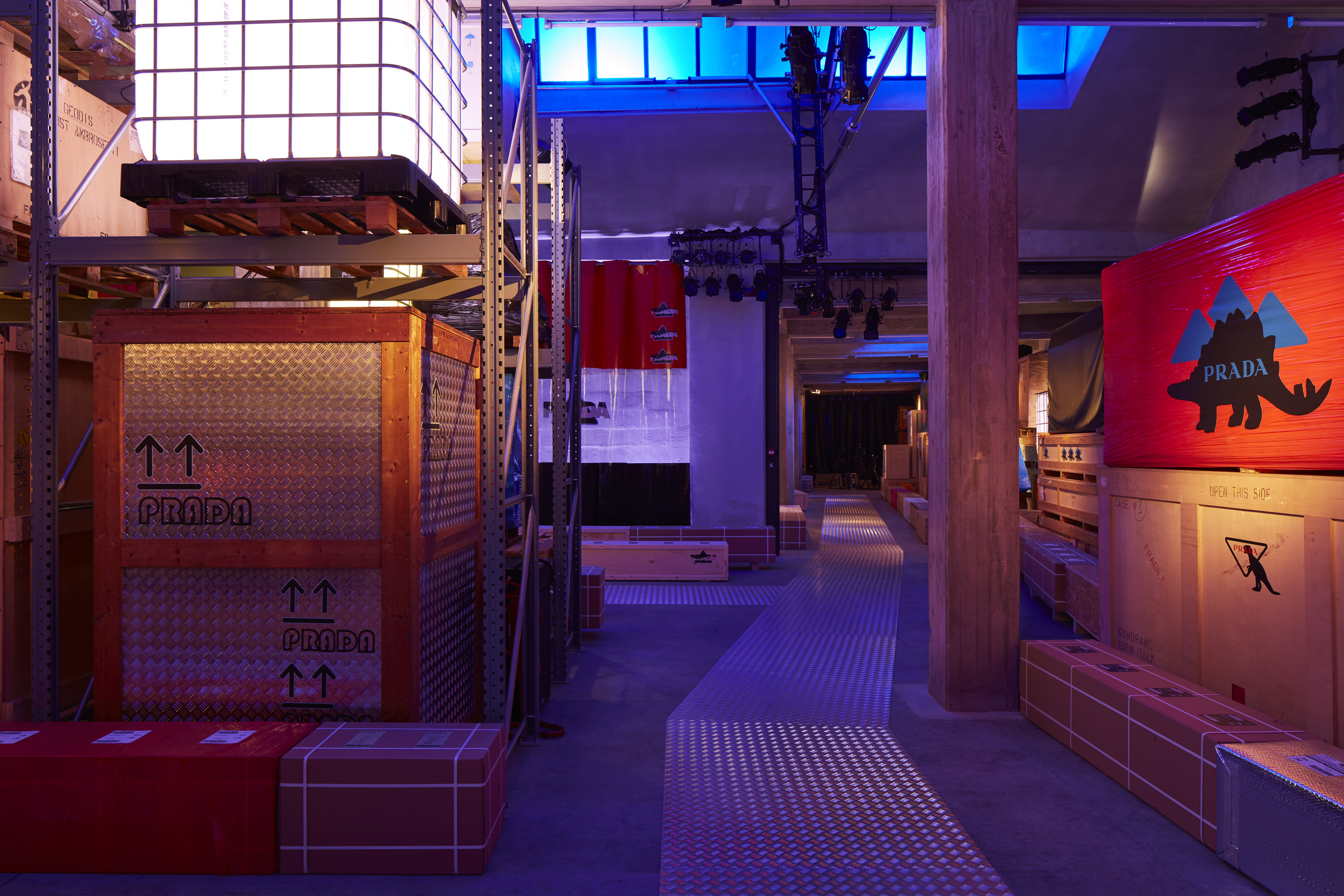 Low-tech robots are stamped on crates, boxes, plastic-wrapped cargo lines and defines the walls. They are orderly but odd, evoking cassette tapes or wind up toys. In the cool blue lights and anticipatory quiet before the show, these creations have a life of their own within the space.
This moods shifts dramatically with the introduction of the show lights, gleaming off the diamond-patterned, sheet metal walkway, and the entrance of the collection.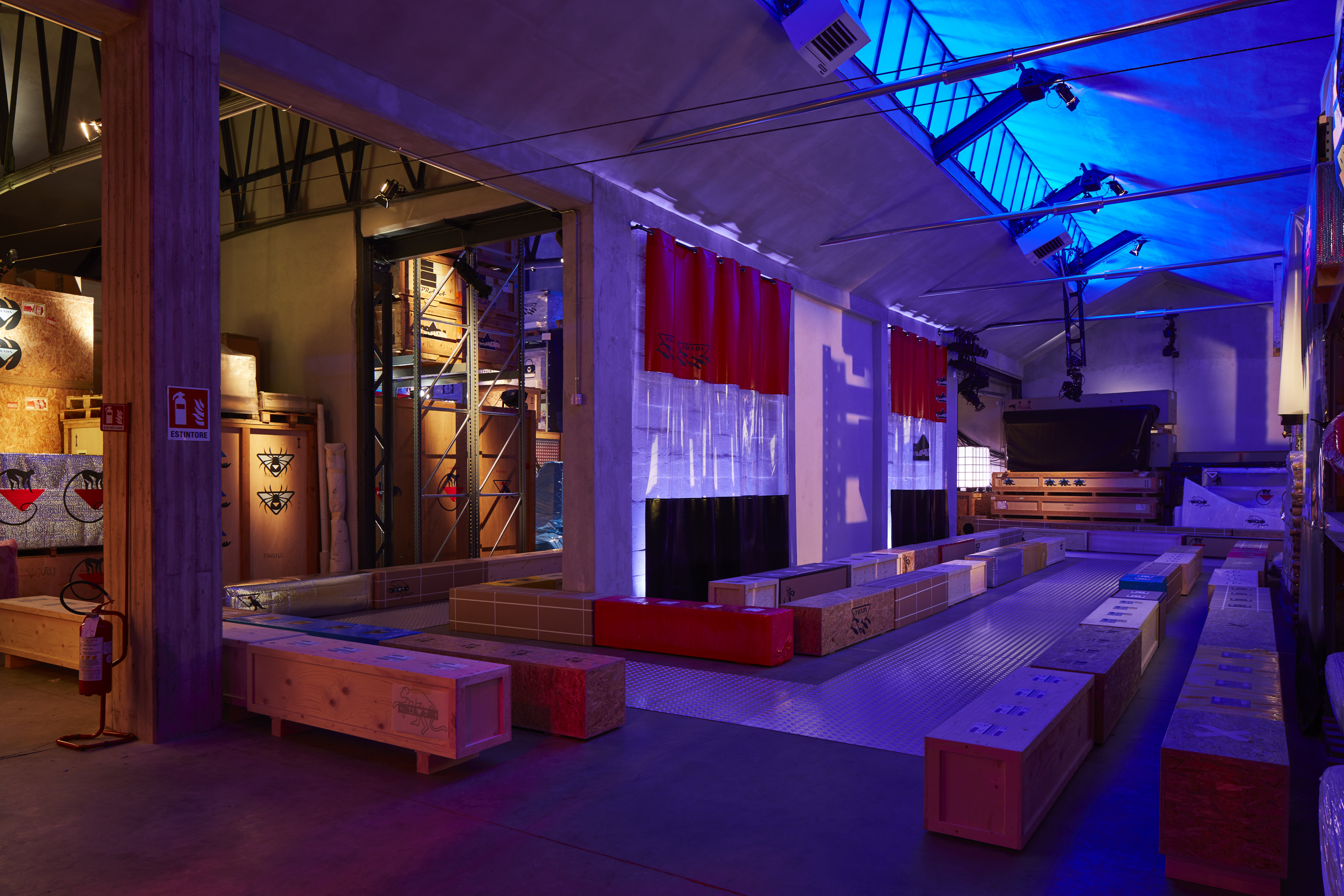 Renewing her love for black nylon, sleek and discrete, Miuccia Prada finds elegance in the industrial. Clean, street silhouettes highlighting utility elements— zippers, buttons, badges— accented simply, boldly. The collection mirrors the unconventional decoration of the space, where packing tape and hard edges provide strong, defining lines within which bold symbols stand out as a kind of utilitarian ornamentation.
However, while Prada thrives in this achromatic nylon, she has long flirted with pop-art style iconoclasm, and a playful use of icon and color prints softens the more severe elements in a manner that is intriguing, curiously elegant. Bananas, flames, even the lipstick print from her early days are revamped, in the collections and space.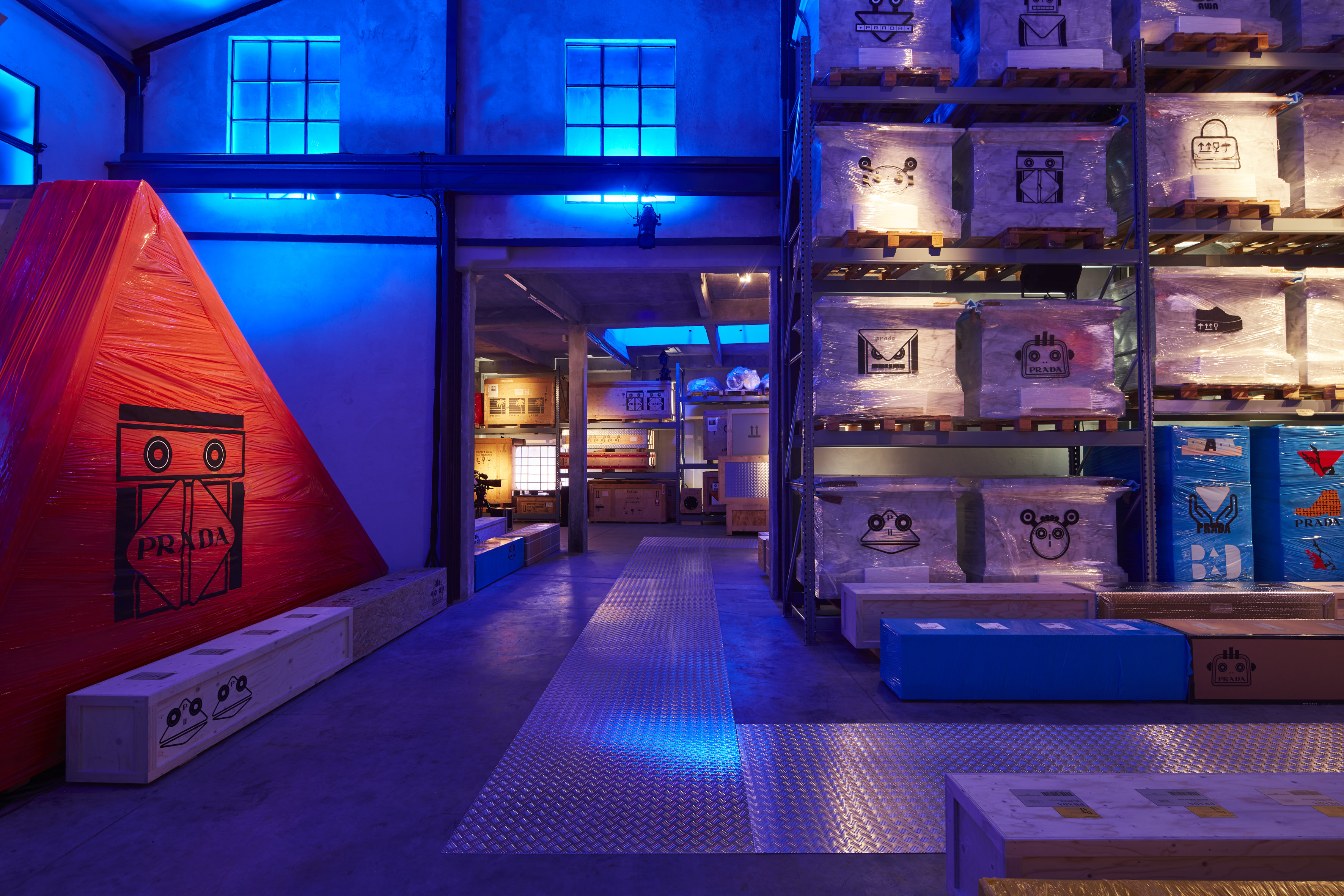 In the looks presented in the collection, this contrast is achieved through the use of patterned knits, and a revisiting of the classic Prada prints. Within individual looks, these more visually stimulating elements highlight the clean lines and silhouettes. Within the collection as a whole, they support a cohesive aesthetic and expression of Prada's true brand identity.
Prada pivots with this collection, managing to be both refreshingly innovative and familiar with a blend of classic and new elements. Perhaps the most compelling are the new interpretations of beloved historical elements, which are presented in a kind of low-fi harmony with the industrial setting. This event reflects admirable brand savvy, responding well to recent developments within the Made in Italy fashion scene. It demonstrates a keen awareness of Brand DNA and an appealing confidence to self-reference, even self-deprecate. This is uniquely Prada: past, present, pure.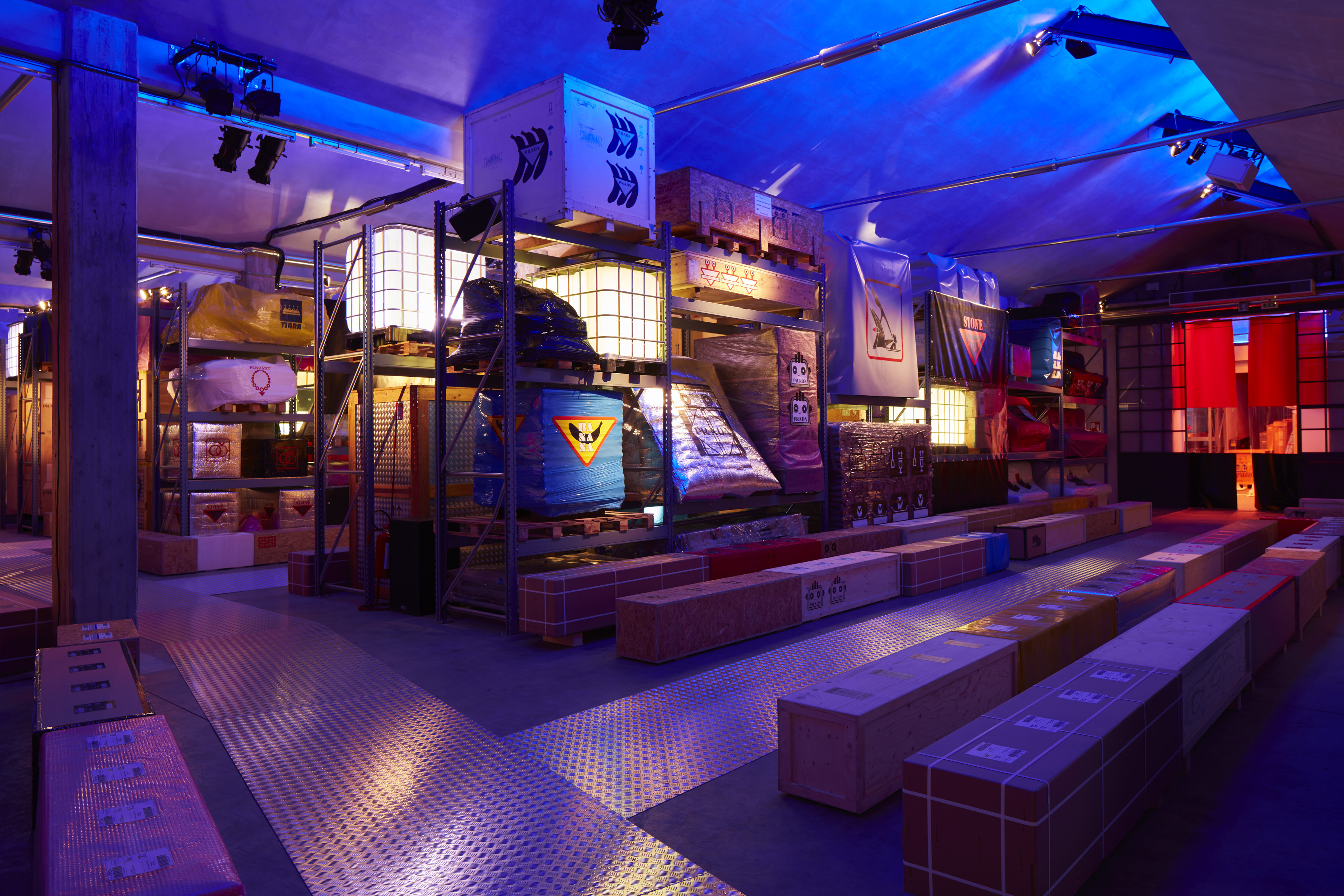 Cortesy PRADA